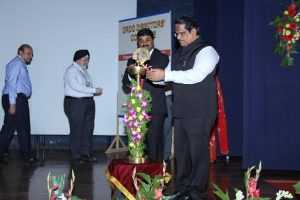 New Delhi. 29 May 2016
The DRDO Directors' Conclave 2016, an annual event of DRDO was inaugurated by Secretary Defence R&D and Director General DRDO Dr. S Christopher at Dr APJ Abdul Kalam Auditorium, Pashan, Pune.
The objective of the two-day conclave, organized by ARDE, Pune, with the theme 'Productive DRDO' is to evolve innovative methods and procedures to synergize between DRDO Head Quarters, DG (Technology Clusters) and various DRDO laboratories across the country. In his inaugural address, Dr S. Christopher expressed the need of innovative mechanisms for better coordination between the Laboratories, DGs and Corporate headquarters to meet the 21st century challenges of Defence R&D for protecting IPR issues of DRDO. He also emphasized the paradigm shift for inclusive User-friendly & collaborative Defence R&D with Industry & Academia to ensure a 'Productive DRDO'. Earlier, Shri PK Mehta, DG (ACE) welcomed the delegates, followed by the theme address by Dr S Guruprasad, CC R&D (PC & SI). It is being attended by over 110 top Officials of DRDO including Directors General of various Technology Clusters, Chief Controllers (R&D), Directors of DRDO Laboratories, Corporate Directors of DRDO headquarters and IFAs.
The event will include deliberations on various issues of DRDO through six technical sessions each followed by a panel discussion. Few prominent topics includes – Simplification of Corporate Procedures, Leveraging Industry, DPP-2016 opportunities for DRDO, Cyber Security and DRDO Knowledge Management. The conclave is scheduled to be concluded on May 30, 2016 with the award ceremony to young scientists.