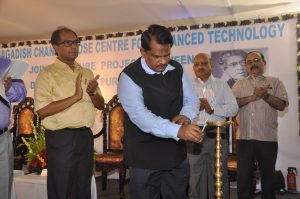 New Delhi. 23 June 2016. Heralding a new era of DRDO-Academia Partnership, Defence Research & Development Organisation (DRDO) today signed a Memorandum of Understanding (MoU) with Jadavpur University (JU), Kolkata to establish the Jagadish Chandra Bose Centre for Advanced Technology (JCBCAT).
Secretary, Department of the Defence R&D and Director General, DRDO Dr. S Christopher laid the foundation of the Advanced Technology Research Centre at the university campus in Kolkata. Dr. Christopher in his address called for focused Research & Development at the centre and urged for continued cooperation to achieve success in long term. "Novelty in production needs to be designed keeping in mind constraints of time, cost and space", he said.
The Vice Chancellor of JU, Prof. Suranjan Das welcomed the DG, DRDO and said it is a matter of great honour for the university to be associated with DRDO. He assured the DG that JCBCAT would be a centre of excellence and assist in nation-building.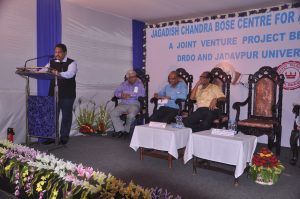 The Chief Controller R&D (Technology Management) of DRDO,  MH Rahman in his address said that JCBCAT would equip itself with advanced and unique research facilities and Multi-University collaboration for quality research outcome which would involve the best researchers.
Research contributions made to DRDO by Jadavpur University and existing research potential in the university led to establishing this centre of excellence. The MoU will facilitate DRDO and the Jadavpur University to pursue collaborative advanced research. The JCBCAT will primarily undertake research in areas of secure systems and cognitive technologies, directed energy, unmanned and robotics technologies and other futuristic technologies.
The Centre will strengthen DRDO's relationship with Jadavpur University and with other academic research institutions in the region. DRDO scientists and engineers will get the opportunity to work with the faculty and scholars of the university towards addressing scientific problems and finding innovative solutions.  DRDO will support and facilitate advanced research and utilize the outcome in developing futuristic defence systems. The researchers will also have the opportunity to work on real problems in the advanced areas of Defence technologies. The concerted research efforts at this centre will lead to realization of indigenous technologies in critical areas and enhance self-reliance.