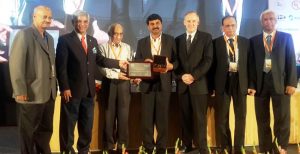 New Delhi. 24 August 2016. In recognition of his significant national contributions towards Missiles and Aerospace technologies, eminent scientist Dr G. Satheesh Reddy, Scientific Advisor to Raksha Mantri and Director General, Missiles and Strategic Systems, DRDO received the prestigious IEI-IEEE Award for Engineering Excellence-2015 during the Award ceremony as part of the glittering Golden Jubilee Celebrations of the IEEE Asia-Pacific Region on August 24, 2016 held at Hotel Lalit Ashok, Bengaluru.
His pioneering work in Navigation and Avionics technologies has been integral in the success of several defence projects making India self reliant in many vital areas. Dr Satheesh received the award from  A.S. Kiran Kumar, Chairman ISRO in the presence of Dr Barry L. Shoop, President, IEEE USA and many other eminent luminaries from India and abroad.
On this occasion, Dr Satheesh said "the Award is a true tribute to the efforts of each and every team member of DRDO. India is steadfastly marching towards complete self reliance in Missile Systems and technologies." "To create a significant impact on India's Science & Technology and to promote highest standard of engineering education & practices, professional societies, scientific bodies and academic institutes have to re-align the young force of the country towards the forefronts of current needs and developments," he Dr G Satheesh Reddy is presently Scientific Advisor to Raksha Mantri and Director General (Missiles and Strategic Systems), DRDO.
He is an Aerospace Scientist well renowned for his R&D in Missile Systems and sustained contributions towards advancement of Aerospace technologies & industries in India. His decades of expertise have been providing the necessary thrust for the programmes of national importance. As Director, Research Centre Imarat, the Avionics laboratory founded by Dr APJ Abdul Kalam, he led the development of Avionics technologies in critical areas for Indian Missiles and other defence programmes.
Dr Satheesh conceptualized, designed and developed the fault tolerant redundant navigation system with innovative algorithms and also pioneered the development of embedded computers and other critical Avionics sub-systems which have been successfully flight tested in all the three missions of the country's first ICBM class Agni-5 missile with range of more than 5000kms achieving few metres of terminal accuracy,propelling the country to the elite club of advanced nations. This development brought in self-reliance in denied sensor technology, possessed only by few nations and paved the way for development of Navigation Systems for Marine and Aircraft applications.
As Programme Director, successfully developed the Medium Range Surface to Air Weapon System (MRSAM)and spearheaded its hat-trick success in the maiden missions providing necessary thrust to the Air Defence capability of the country. His technological contributions have left a lasting imprint on the technology map as well as the defence preparedness of the country.
As Project Director, Dr Satheesh developed the country's first Guided Bomb bolstering weapons capability of Armed forces, steered R&D of Avionics technologies in the restrictive Control Regimes and made India self-reliant in the critical areas of Navigation, Embedded Computers, Control, Guidance, Simulation, RF and Infrared Imaging Seekers, Telemetry for strategic & tactical Missiles. Dr Satheesh is credited with the development of high accuracy Ring Laser Gyro based Inertial Navigation and GPS System, today the backbone for all the long range missions. He led the development and production of GPS+GLONASS+GAGAN on Module (G3OM) receiver and System on Chip (SoC) bringing in quantum jump in miniaturization of Onboard Avionics and successfully demonstrated IIR and RF Seeker technologies. His contributions to high value assets for Defence of India are unique and nonpareil.
Dr Satheesh graduated in Electronics and Communication Engineering from JNTU, Anantapur and received his MS and Doctorate from JNTU, Hyderabad. Dr Satheesh is a globally renowned Navigation Scientist. As an Indian Defence Scientist, he holds the distinction of being inducted as Fellow of Royal Institute of Navigation, London (FRIN), Royal Aeronautical Society, UK (FRAeS) and has been awarded the Full Member Diploma as a Foreign Member of the Academy of Navigation & Motion Control, Russia. He is an Honorary Fellow of Computer Society of India (Hon.FCSI) and Fellow of Indian National Academy of Engineering (FNAE), Aeronautical Society of India (FAeSI), Institution of Engineering and Technology, UK (FIET), Associate Fellow of American Institute of Aeronautics and Astronautics, USA (AFAIAA) and many other professional/ scientific bodies in the country and abroad.
For his significant contributions to Defence Science Technology, Dr Satheesh received the prestigious Indian Science Congress Association Homi J. Bhabha Memorial Award from Hon'ble Prime Minister of India. He is the first ever Scientist working in India to be conferred with the Silver Medal of Royal Aeronautical Society, UK in their Awards history spanning over 100 years. He is also a recipient of the National Systems Gold Medal, Aeronautical Society of India Dr Biren Roy Space Science Design Award, Systems Society of India Vikram Award for realization of Systems of National importance, Astronautical Society of India Rocket Related technologies Award, DRDO Agni Award for Excellence in Self Reliance, IETE B.V. Baliga Memorial Award, DRDO Pathbreaking Research Award, FAPCCI Outstanding Engineer Award  and many other honours/recognitions. He has been conferred with Honorary Degrees of Doctor of Science by Amity University Noida, Jawaharlal Nehru Technological University and many other leading Universities of the country.