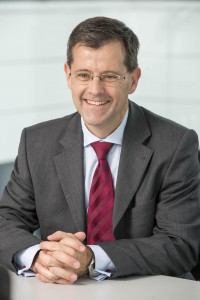 Paris. September.
Dr. Christoph Hoppe (52) is appointed as the new CEO and Chairman of the Management Board for Thales in Deutschland. Hoppe, who has a PHD in political science, joins Thales from the aviation supplier Premium Aerotec, where he held the same function since September 20
1
3.
Throughout his professional career, Christoph Hoppe has held various leadership positions within EADS/Airbus. From 2009 to 20
1
3, he was the Head of Human Resources at Cassidian and Labor Director at EADS Deutschland.
As an Executive Board appointee, he represented EADS Group to the Federal Government and the German Bundestag in Berlin between 2006 and 2009. From 2002 until 2006, Hoppe had operational responsibility for the development and series production of the Airbus cabin interior, while also working as the Managing Director of the former subsidiary Aircabin in Laupheim.
Christoph Hoppe started his professional career at the "Science and Politics Foundation" in
1
989 after earning his academic degree in international relations from the highly-regarded Georgetown University in Washington, D.C.
From
1
992 to
1
995, he worked as an advisor, initially in the planning commission of the CDU/CSU Bundestag fraction, followed by the German Chancellor's office in Bonn. He started his industrial career in
1
995 as manager of European marketing at Daimler- Benz Aerospace (DASA), a predecessor of EADS.