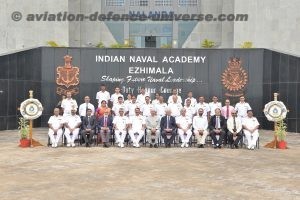 Ezhimala. 18 October 2109. The sixth edition of the annual Dilli seminar on 'Role of Seapower in Shaping of Nations' commenced this morning at the Indian Naval Academy (INA). Several serving and retired senior Naval Officers, eminent academicians, representatives of think tanks, defence analysts and distinguished luminaries are attending the two day seminar.      
The seminar proceedings commenced with the opening address by Vice Admiral Dinesh K Tripathi, AVSM, NM,  Commandant, INA. This was followed by the keynote address  delivered by the chief guest Admiral Madhavendra Singh, AVSM, NM (Retd), former Chief of Naval Staff of the Indian Navy.
The first session of day one – 'Sea Power Vs Land Power – A Historical Perspective' – chaired by Dr. Dattesh Parulekar, commenced with a presentation by Commander B Srinivas on the topic 'Security Ashore : Supremacy at Sea'. The officer is a Navigation and Direction specialist and holds a Diploma in International Maritime Law from Gujarat National Law University. The session touched upon the differences between sea power and land power, their interdependence, and some lessons for the times to come.
The second paper – 'Sea Power vs Land Power : The Indian (and Indian Navy) Perspective' – presented by Commodore Srikant B Kesnur brought out how Indian thinkers have highlighted India's pre-occupation with land borders and how often we have been accused of sea-blindness. The presentation also dwelt upon the Navy at Independence and growth of Navy thereafter in terms of acquisitions as well as conceptual and doctrinal growth.
Session one of the day culminated with an invitational talk by Vice Admiral Girish Luthra, PVSM, AVSM, VSM (Retd.) former Flag Officer Commanding in Chief, Western Naval Command.
Session two of the day – 'Sea Power and Geo Economics'– chaired by Captain Alok Bansal comprised two papers, viz. 'Evolving Influence of Sea Power in Emerging Geo –Economics' by Commodore Odakkal Johnson, and 'Sea Power and Geo Economics' by Commodore Gopal Suri. The papers examined the relevance of geo- economics through maritime history in early, medieval and modern times; a concept that existed from several centuries and still relevant on present day.
Four papers will be presented tomorrow, the concluding day of the seminar (Friday, 18 October 2019). This will include a paper on 'Linking Geo politics and Geo-economics with Sea Power' by Midshipmen of INA, who are currently in their 8th term at the Academy. The other paper presenters are Nitin Pai, Dr. Jabin T Jacob and Ritika Kapoor. Commodore Uday Bhaskar, VSM, (Retd), Director, The Society for Policy Studies will be the chairperson for the session.