Defence minister releases a booklet highlighting the efforts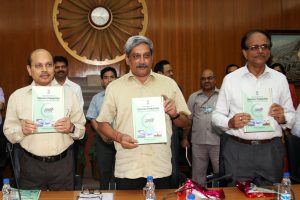 New Delhi.  26 May 2016. The Defence Minister  Manohar Parrikar released a booklet,highlighting the efforts made by Department of Defence Production in the last two years in pursuance of self-reliance in defence sector.  It is a compilation of the achievements of the Department of Defence Production in the field of indigenous production of weapon systems/platforms and policy initiatives undertaken in the past two years.
With the launch of Make in India portal in September 2014 by the Government, the focus has been to improve the business environment by easing processes to do business, encourage participation of Indian public and private sector in defence production and promote innovation and indigenous development of equipment and weapon platforms.
The booklet mentions a number of policy initiatives which have been taken by the Department of Defence Production like relaxation in FDI Policy, providing Exchange Rate Variation protection to Indian industry, level-playing field to private sector in terms of excise duty/custom duty at par with public sector, liberalising licensing policy and extending the validity of Industrial Licensing to 15 years, streamlining defence offset guidelines and restoring services as an avenue for discharge of offsets, facilitating exports by putting Standard Operating Procedure for issue of NOC and list of military stores in public domain besides doing away with end-user certificate, revising Make Procedure to promote design and development etc.  It mentions about Make in India Portal for defence production which is a very industry-friendly website covering all policy procedural issues.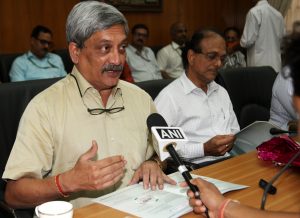 The booklet also talks about the Ordnance Factories and DPSUs working under the administrative control of Department of Defence Production having not only enhanced their production from Rs. 43,746 crore to Rs. 51,351 crore but have also delivered many state-of-the-art platforms to the Armed Forces.  During the last two years, exports have almost doubled and 119 industrial licences have been issued.
Other highlights are that all Naval ships and submarines on order are being constructed in Indian shipyards and expenditure on capital procurement from foreign vendors in the last two years has come down from Rs. 35,082 crore to Rs. 22,422 crore. A number of steps are being taken to augment production capacity by DPSUs, e.g. warship building capacity at Mazagon Dock Ltd, infrastructure building for Mine Counter Measure Vessel at Goa Shipyard Ltd, new Helicopter manufacturing facility at Tumakuru, second production line for Dhruv at Kanpur, manufacturing capacity for T-90 and PINAKA rockets.