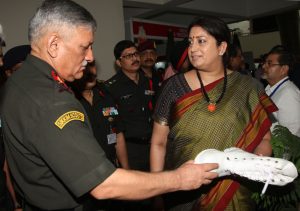 New Delhi, 22 May 2017. Items like Special Snow Socks, HAPO Chambers, Snow Goggles, Thermal Insoles and Ruck Sacks being used in Siachen Glacier and other super high altitude areas which were being imported till recently will now be manufactured in India of matching quality and at a much cheaper price.
The 3rd Defence – ITTA (Indian Technical Textile Association) Joint Seminar cum Exhibition was inaugurated by Smriti Zubin Irani, Minister of Textiles. Gen Bipin Rawat, the Army Chief and senior officials from the Defence Services, MoD, MHA and Industry were present at the function.
The seminar will include discussions on topics related to developments in personal and protective clothing as also building, medical and geo textiles.

Minister of Textiles highlighted the need for exploiting the advanced R&D facilities for improving the existing inventory of the Army. While assuring all assistance from her Ministry, she reiterated the need for the industry to explore various business models and joint ventures. She said that there is a distinction between 'supplying' and 'serving' and the industry should strive to 'serve our defence forces'. She also highlighted the scope of NTC (National Technical Cooperation) supplying their vast product range to the Army.
Gen Bipin Rawat reiterated that joint initiatives between the Textile Ministry, MoD and industry assume great significance given the fact that many of the principal items of Ordnance Equipment Factory (OEF) are going to be offered to the Trade on a permanent basis over the next 3 to 5 years. He highlighted that the Government is supporting the industry and the onus is on the Defence forces to take the advantage of the same.
Lt Gen RR Nimbhorkar, Master General of Ordnance (MGO) apprised the delegates of specific areas where improvements were needed. He urged the industry for early indigenisation of the three layered Special Suits, Sleeping Bags, Boot Mufti-Purpose and Modular Gloves that are being used in the super high altitude areas besides products improvement for Extreme Cold Clothing (ECC), Mattress Kapok, Face Mask, etc. The MGO reiterated that the industry has a lot of scope for participating in the Rs 3000 crore General Stores and Clothing requirements.
From the Industry side, Pramod Khosla, Chairman ITTA and Dr KS Sundararajan, Vice Chairman, ITTA assured the Army officials of constant support. Exhibitions stalls from various Business Houses dealing with technical textiles and Army's present clothing and general stores inventory were laid for the delegates to see.