By Brig. VK Atray
Aligarh. 10 August 2018.  Uttar Pradesh Defence Industrial Corridor took off to a great start with an announcement of investment over Rs. 3700 crore in defence production at Industry Meet organized at Aligarh, today.
Investments in UP Defence Industrial Corridor made are as follows:
HAL -Rs. 1200 crore, OFB – Rs. 1077 crore, MKU – Rs. 900 crore, BEL- Rs. 240 crore,Bharat Forge – Rs. 200 crore and PTC – Rs. 115 crore. The total amount of investment announced was of the order of Rs. 3732 crore. Boeing India announced setting up of a skill centre in cooperation with HAL.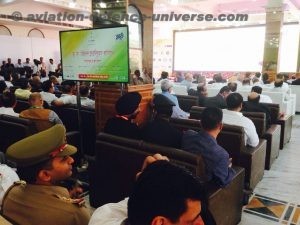 The Chief Minister thanked the Central Government for presenting the State with the Defence Corridor and assured that the State Government will take all necessary steps to make the project successful. He mentioned that Government of UP has come out with a Defence and Aerospace manufacturing Policy and a business friendly portal with very attractive destination for defence production. Nirmala Sitharaman invited the defence industry to participate in exports in addition to supplying to the Indian Defence Forces. She extended full support of the Central Government in setting up of the defence corridor in UP.
The event was graced by Defence Minister Nirmala Sitharaman, Chief Minister of Uttar Pradesh Yogi Adityanath, MOS(Defence) Dr. Subhash Bhamre, Minister of Industrial Development UP, Satish Mahana, Member of Parliament Satish Kumar Gautam and several other Ministers and MLAs.