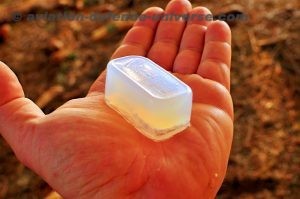 Cardiff. 20 May 2018. The UK Defence Procurement Minister, Guto Bebb MP, has launched the new production line for a breakthrough fuel called 'FireDragon' that British soldiers use to heat their combat rations and warm their drinks.
Defence Minister Guto Bebb said, "From fighter jets to fuel rations, it is essential that our troops have the best kit possible. FireDragon sees our armed forces benefit from a cleaner, safer and more sustainable fuel source.BCB International has 164 years of industry experience in survival equipment, and this new production line will ensure the company can meet growing demand and continue to expand its workforce in the years ahead."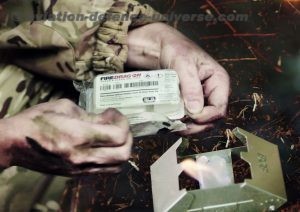 164 year old Cardiff-based survival equipment manufacturers, BCB International Ltd, have developed the world's first solid bio-ethanol fuel, called 'FireDragon'.  In 2015, following extensive laboratory and field trials, the UK's Ministry of Defence (MoD) decided to replace traditional hexamine fuel tablets with the novel 'FireDragon'  fuel. 
UK Government in Wales Minister Stuart Andrew said, "For decades, BCB International has been at the forefront of pioneering new innovative products that safeguard lives in extreme conditions around the world. Whether half way up a mountain, in the middle of the desert, deep in the jungle or in rough seas, their commitment to innovation can often mean the difference between life and death. And this commitment continues to its workforce and to its operations in Wales. The opening of this new production line is a vote of confidence in the skills and expertise of its workforce and in the confidence the company has for continued growth in the future."
 To meet the growing demand for FireDragon,  BCB International have invested almost £750,000 in a new production line which the Minister will be launching during his visit.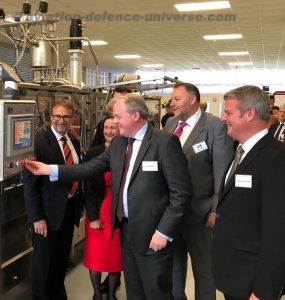 BCB International's Managing Director, Andrew Howell, said, "We are delighted to welcome the Ministers to our FireDragon fuel facility. Warm food raises a soldier's morale, energy and concentration levels.  Unfortunately, for far too long soldiers were also unknowingly inhaling toxic fumes each time they used hexamine fuel tablets to cook their food in the field. FireDragon is a safer and cleaner alternative.   It is made from sustainable natural ingredients, it is non-toxic, burns cleanly, can be ignited even when wet and if necessary can be used as a hand cleanser. The British Army were the first military to have the vision and make the switch to 'FireDragon'.  This move has encouraged other Armies to consider FireDragon as a fuel for the future.We are currently in discussions with several armies that are interested in integrating 'FireDragon' into their operational ration packs."