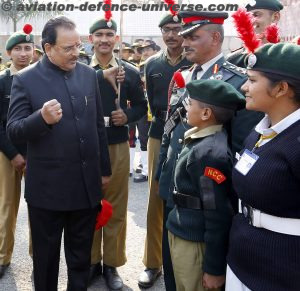 Ajay Bhatt says NCC is a shinning example of Unity in Diversity
New Delhi. 19 January 2023. Defence home Minister  Ajay Bhatt has said that NCC is a shining example of "Unity in Diversity", and since formation it has played a stellar role in grooming the youth of the country by instilling values of discipline, character, spirit of adventure and ideals of selfless service in them. Defence home Minister was addressing NCC Cadets of Republic Day Camp 2023 at Delhi today.
Ajay Bhatt underlined that NCC has been an epitome of "Unity and Discipline" for the Youth of the Country and has been strengthening the patriotic and secular values. The Minister emphasized that the expansion of NCC is progressing as per schedule. "Through its expansion plans, NCC aims at enhancing its coverage in coastal areas, border areas and left wing extremism affected areas with special emphasis on transforming the youth of theses remote areas,"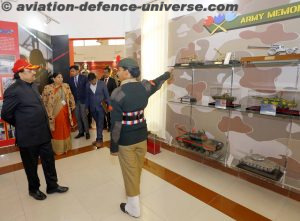 He expressed confidence that the special efforts will increase the reach of NCC to the rural and semi urban areas by locating maximum new raisings in such areas. "It will definitely energise the youth in these areas and give them an opportunity to contribute towards nation building," he added.
He appreciated the role of NCC cadets in the community development and social service schemes like National Youth Festival, International Day against Drug Abuse and Illicit Trafficking and Nasha Mukti Abhiyan.
"NCC's disaster relief efforts including the assistance to civil administration in various states and their exceptional service in Swachta Abhiyan, and Puneet Sagar Abhiyan have been praiseworthy. NCC's efforts in making our honourable Prime Ministers call of Har Ghar Tiranga on 15 August 2022 literally made it into a great festival full of patriotic fervour. I am sure the ethos of team work and value education inculcated in you will always enable you to positively contribute towards national objectives in the future too," the Minister said.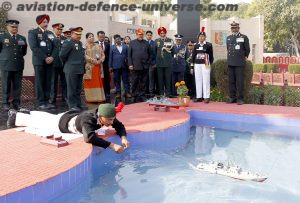 Earlier, a contingent of all the three wings namely Army, Navy and Air Force presented an impressive "Guard of Honour" to the Defence home Ministeron his arrival. NCC cadets thereafter presented a fine band display.  Ajay Bhatt also visited the 'Flag Area' prepared by the NCC cadets, depicting various social awareness themes and cultural activities. The cadets briefed him in detail about their respective State Directorate themes.
The Minister also visited the 'Hall of Fame', a proud possession of NCC with display of rich archival collection of alumni photographs, models, motivational and other visual delights of the three wings of NCC. Ajay Bhatt along with other distinguished guests later witnessed a spectacular 'Cultural Programme' by the cadets in the NCC auditorium.