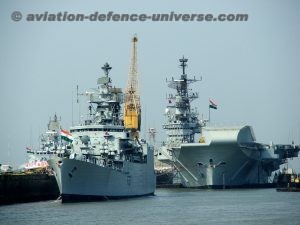 New Delhi. 27 September 2017. The Defence Acquisition Council(DAC) accorded Acceptance of Necessity to the Indian Navy for procurement of upgraded Sonars for its destroyers and frigates through the BUY INDIAN (IDDM) route at a cost of Rs. 200 crore. These Sonars are designed, developed and manufactured indigenously by the DRDO and the Naval Physical and Oceanographic Laboratory, Kochi and will provide a significant boost to the Navy's anti submarine warfare capabilities. The DAC additionally cleared procurement of missiles for replenishing the naval inventory.
The  meeting to consider the Capital Acquisition proposals of the Services was held under the Chairmanship of Defence Minister Nirmala Sitharaman. This is the first DAC meeting being chaired by her after having taken over the reins of the MoD.
The Minister reviewed the status of the Capital Acquisition Schemes as on date and directed that the schemes are to be meticulously monitored and brought to maturity within stipulated timelines. Towards this end, the Minister stated that the Defence Acquisition Council meetings are to be conducted once in a fortnight to enable speeding up the process of Capability Development of the Armed Forces.