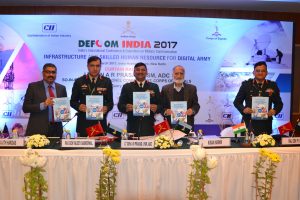 By Col NB Saxena
New Delhi. 11 January 2017. A Curtain Raiser Ceremony for DEFCOM 2017 was held wherein a Brochure on the theme, 'Infrastructure and Skilled Human Resource for Digital Army', was released by Lieutenant General Ashish Ranjan Prasad, Signal Officer-in-Chief and Senior Colonel Commandant, Corps of Signals.
Addressing the gathering, Prasad brought out that the collaborative vision and spirit of DEFCOM 2017 should result in tangible outcomes in the form of a concerted National endeavor to equip the Network Centric 'Digital Army' capable of 'Translating Information Superiority into Combat Power' in times to come.
DEFCOM 2017, an annual seminar organised jointly by the Corps of Signals of Indian Army and Confederation of Indian Industry (CII) is scheduled to be held on 23 and 24 March 2017 at India Habitat Centre, New Delhi.
Kiran Karnik, Chairman CII National Committee on Telecom and Broadband and CII National Mission on Digital India lauded the stellar role of DEFCOM in evolving the operational communication 'Information-Structures' for the Army.
DEFCOM is the most seminal forum for interaction between the officers of the Armed Forces, Indian Industry, Academia and R&D organisations on matters related to operational communication systems for the Army.