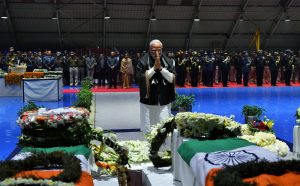 By J K Verma
New Delhi. 15 February 2019. The Inter Services Intelligence (ISI) funded terror outfit Jaish-e-Mohammed (J-e-M) carried out the deadliest attack on the convoy of Central Reserve Police Force (CRPF) yesterday, in which more than 40 valiant soldiers were martyred. The terrorist attack was similar to Afghan pattern under which the suicide bomber rams his explosives laden car with the vehicle of security forces. In these attacks chances of escape are minimal.
On 14th February suicide bomber Adil Ahmad Dar also known as Waqas Commando of Gundibagh, who joined J-e-M about a year ago, bumped the car which was loaded with more than 60 KGs of explosives in a CRPF bus. The bus was the part of convoy which was going from Jammu to Srinagar. The convoy which started from Jammu around 0300 hours had more than 75 vehicles and approximately 2500 persons. The dastardly terrorist attack was carried out at about 1500 hours at Lethipora in Pulwama district, which is one of the four districts in south Kashmir, where Pakistan sponsored terrorists are very active. The impact of the explosion was so much that not only the soldiers travelling in the ill-fated bus were martyred, even another bus just behind it also suffered heavy casualties.
It is also reported that although Adil Dar was alone in the vehicle, but his other accomplices were not only giving him cover but also fired on the convoy. The security forces are analysing that how J-e-M was able to carry out such a major operation although the local leadership is already exterminated by the security forces. Mohammad Usman chief of Kashmir unit of J-e-M was eliminated by security forces in 2017. Usman was nephew of Masood Azhar who is a UN-designated terrorist and Chief and founder of J-e-M and Harkat-ul-Mujahideen.
Analysts claim that the mastermind of this monstrous terrorist action was Mufti Abdul Rauf Asghar, younger brother of Masood Azhar and father of slain terrorist Mohammad Usman. At present Masood Azhar is seriously ill hence Rauf is the Operational Head of J-e-M. Both India and United States have designated him as a global terrorist. Rauf was also the brain behind the hijacking of Indian Airlines aeroplane in December 1999 and terrorist attack at Pathankot Air Base. A Red Corner Notice is also issued by Interpol against him.
Generally, the convoy was of 1000 personnel or less but this time it was of more than 2500 people, as the highway was closed for few days because of inclement weather. The security forces claimed that all due precautions were taken, the convoy route was sanitised, road opening party was deployed, force personnel were alert to counter throwing of grenades etc. but Adil was a local and he took advantage of the liberty given to the civilians to ply the vehicles on service and village roads connecting the highway even at the time of movement of convoys of security forces.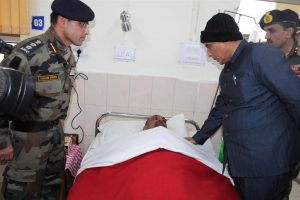 However, Home Minister Rajnath Singh visited Kashmir on 15th February and made it clear that in future civilian vehicles will not be allowed when the convoy of security forces moves. ISI prefers to use disgruntled local Muslims for carrying out terrorist attacks so that they can allege that the local Kashmiris are so frustrated from Indian atrocities that they are involved in terrorist activities.
The specialists claim that this attack was different from the previous attacks and J-e-M has adopted a sophisticated tactic and it is essential for the security agencies to also change their strategy. It should also be seen that Adil had joined J-e-M just a year back and the terrorists were able to brainwash him so much that he offered to work as a Fedayeen. Jammu & Kashmir was the land of Sufi saints and there was no religious extremism in the province but the separatist on behest of ISI has shunted out moderate Kashmiri Imams from mosques and hardcore fundamentalists became Imams in the mosques. These Imams are spreading Salafism and Wahhabism in the valley. The intelligence organisations should pin-point the mosques and the preachers who are spreading extremism in the valley and culprits should be punished under the law. The local government should make efforts to stop radicalisation and there should be sincere efforts to de-radicalise the persons who are already radicalised.
This attack also indicates that ISI and separatist leaders in the valley are becoming desperate because of the success of operation All Out and Cordon & Search operations. The terrorists are regularly exterminated, and Pakistan is not able to infiltrate more terrorists because of stringent watch on the borders. ISI and its henchmen are worried that terrorism is weakening in the valley. The February 14 attack gave a new boost to the terrorists as well as to Pakistan backed separatists. J-e-M gave a tough message through this attack that they have a strong presence in the valley.
Islamabad is desperate as the residents of Pakistan Occupied Kashmir (POK) are also demonstrating against Islamabad. They already held several protests, rallies and demonstrations against the carnages of the central government. They clearly mention that Islamabad is exploiting them, and they are residing in primitive era and they have no modern facilities. They also mention that their counterparts in India are availing much more modern facilities than them. Islamabad by carrying out terrorist activities in J&K distract the attention of inhabitants of POK and claim that the residents of J&K want to secede India and want to merge with Pakistan. In this way Islamabad wants to satisfy resident of POK that they are better than the inhabitants of J&K.
Pakistan is also emboldened because President Trump is desperate to leave Afghanistan and Zalmay Mamozy Khalilzad the US diplomat and the Special Representative for Afghanistan Reconciliation at US Department of State is negotiating with Taliban. Pakistan is assisting Khalilzad and talking to Taliban without the representatives of Afghan government. In this way firstly, Pakistan again became close to US and secondly when US troops will leave Afghanistan, Islamabad will install the regime favourable to them and against its adversary India. ISI knows that if Taliban comes to power in Afghanistan, they can recruit large number of suicide bombers on the name of Jihad and these Jihadists can be utilised to carryout terrorist activities in India especially in Kashmir.
The Pulwama suicide attack of February 14 is on the pattern of Afghanistan and mostly these types of attacks are not common in India. If ISI is able to install Taliban regime in Afghanistan, then it is expected that the frequency of these attacks would enhance. Hence security forces especially intelligence agencies should be more vigilant.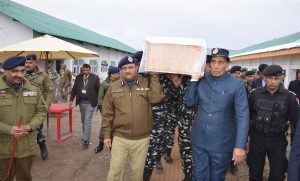 Prime Minster Modi, Home Minister Rajnath Singh, all pledged to take revenge of this terrorist act. Union Minister Arun Jaitley has announced withdrawal of Most Favoured Nation (MFN) status given to Pakistan. India gave MFN status to Pakistan in 1996 but Pakistan had not reciprocated although it gave MFN status to China. Pakistan gave Non-Discriminatory Market Access (NDMA) to India which is different.
Arun Jaitley also mentioned that India will take diplomatic steps to isolate Pakistan. Indian foreign secretary met envoys of United Nations P 5 countries including China. Indian Foreign Secretary also met foreign envoys of 25 countries and apprised them about the dubious role of Pakistan.
However, the government has to take some stringent steps because withdrawing of MFN status or trying to isolate Pakistan in world arena is not enough. India must try to destroy terrorist camps maintained in POK, which is part of India and illegally occupied by Pakistan. India is justified in sending troops or using Air Force in destroying terrorist camps in POK, if Pakistan retaliates then India should give befitting reply. Nonetheless terrorist camps move from one place to other hence before attack, intelligence agencies must gather complete information about the location, facilities and defences of these camps.
Secondly security forces must arrest the persons who supported Adil, as it is not feasible to arrange more than sixty KGs of explosives, put it on vehicle and ram it in CRPF convoy alone. These support agents must be punished.
Lastly India will have to fight its own battle and should not expect that any other country will come for its rescue. Sri Lanka exterminated the Tamil terrorist organisation The Liberation Tigers of Tamil Eelam on its own. India also successfully eliminated Khalistan movement from Punjab, although rogue intelligence agency ISI was also helping pro-Khalistan movement. India needs strong will, systematic approach to end terrorism from Kashmir. Security forces must be ruthless with terrorists and their sympathisers but should be sympathetic towards masses.
(Jai Kumar Verma is a Delhi-based strategic analyst and member of United Services Institute of India and Institute for Defence Studies and Analyses. The views in the article are solely the author's. He can be contacted at [email protected])