Boeing Orbital Flight Test-2 Mission For Boeing's Cst-100 Starliner Spacecraft Supported By Curtiss-wright Data Acquisition Technology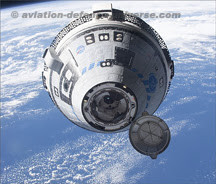 Ashburn, Va. 27 May 2022 . Curtiss-Wright congratulated NASA and Boeing on the successful Boeing Orbital Flight Test-2 mission to the International Space Station (ISS). Curtiss-Wright is proud to support this historic flight as a supplier of rugged data acquisition equipment used on board Boeing's CST-100 Starliner spacecraft as part of the agency's Commercial Crew Program. Curtiss-Wright supplies Boeing with the CST-100's RAIU (Remote Analog Interface Unit) based on the Company's Acra KAM-500 data handling avionics equipment. The RAIU is used to gather data on the status and health of critical spacecraft systems during all phases of the mission.

The flight, NASA's second uncrewed flight for Starliner, was launched to the ISS on a United Launch Alliance (ULA) Atlas V rocket from Space Launch Complex-41 at Cape Canaveral Space Force Station in Florida. The OFT-2 mission demonstrates the end-to-end capabilities of the Starliner spacecraft and Atlas V rocket from launch to docking to a return to Earth in the desert of the western United States.

"As a proud supplier to NASA's Orbital Flight Test-2 mission to the International Space Station, we congratulate NASA and Boeing on the successful Boeing CST-100 Starliner spacecraft mission," said Chris Wiltsey, Senior Vice President and General Manager, Defense Solutions division. "We are pleased that our proven and trusted space data acquisition technology are utilized to help capture the critical data required to support the development of this historic space vehicle. It's an honor to be part of the team helping to usher in the next generation of American space travel and preparing to launch NASA astronauts on missions to deep space. With Curtiss-Wright's long legacy as an aviation and aerospace innovator, starting with the Wright Brothers and Glenn Curtiss, we are especially excited to participate in this important and exciting program that will return Americans to the moon and later on to Mars."

The uncrewed mission will provide valuable data toward NASA certifying Boeing's crew transportation system for regular flights with astronauts to and from the space station. During the mission, the spacecraft delivered more than 400 pounds of NASA cargo and crew supplies to the space station and returned to Earth with more than 550 pounds of cargo, including reusable Nitrogen Oxygen Recharge System (NORS) tanks that provide breathable air to station crew members.

NASA's Commercial Crew Program is working with industry through a public-private partnership to provide safe, reliable, and cost-effective transportation to and from the International Space Station, which will allow for additional research time and will increase the opportunity for discovery aboard humanity's testbed for exploration. The space station remains the springboard to space exploration, including future missions to the Moon and eventually to Mars.