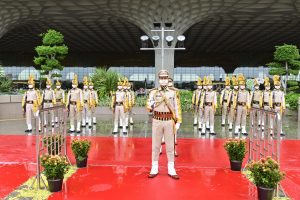 Mumbai. 15 August 2020. GVK-led Mumbai International Airport managing Chhatrapati Shivaji Maharaj International Airport (CSMIA) celebrated India's 74th Independence Day to honour the resilience of the frontline workers and citizens who kept the city running. During this iconic day, CSMIA traditionally honours the freedom fighters who laid the foundation for the establishment of our country. This year, with the ongoing pandemic, CSMIA paid a tribute to the relentless and exceptional service of the frontline workers serving the airport and the country.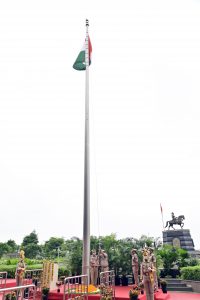 The airport recognizes the sheer determination, self-less dedication and sacrifices of all frontline warriors who have been working tirelessly to eliminate the COVID-19 virus; this Independence Day, CSMIA proudly honours their valour and ceaseless service to the nation. Furthermore, CSMIA also tips its hat to all Indians who have gone above and beyond the call of duty during these uncertain times to help their fellow citizens.
On this momentous occasion, CSMIA witnessed the traditional ceremony and flag hoisting, following all the necessary precautions and standard operating measures at the airport, diligently. The airport aims to welcome passengers by instilling the inherent sense of pride in the achievements of our nation.
On Independence Day and for a week, the airport is on high alert with stringent access to regulate entry to airport terminal buildings, all operational areas and other airport facilities. Further, extra security is deployed at the airport to prevent any untoward incident.