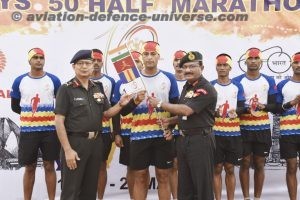 New Delhi. 23 March 2018. Lt Gen Sarath Chand, Vice Chief of Army Staff flagged in the team of 'EME Ultra Run' led by Lt Col Vishal Ahlawat and Maj Sandeep Kumar, who accomplished extremely grueling and challenging task of running 1055 kms. He conveyed his felicitation to the team for creating national record and displaying tremendous team spirit, determination and perseverance.
'EME Ultra Run' had commenced on 01 Feb 2018. This run is one of the events being organized to celebrate Platinum Jubilee by the Corps of EME this year. 'EME Ultra Run' comprised of running half marathon everyday for 50 days. Aim of the run was to spread the message of 'Healthy, Clean, Green and Pollution Free Happy India' amongst the masses through conduct of yoga session after termination of each half marathon at various schools/ colleges/ institutions of NCR.
Padma Shri Murlikant Rajaram Petkar, retired veteran from the Corps of EME, who has been conferred with prestigious Padma Shri award on 20 Mar 2018 for his extensive contribution and excellence in numerous sports disciplines in the Paraplegic Olympics & International & National Games, was also present on the occasion. He sustained grave injuries during India-Pakistan war of 1965 including multiple gunshot wounds and a loss of memory and as a horrific reminder of the incident, still has a bullet lodged in his spine.
Lt Gen KK Aggarwal, DG EME congratulated the Ultra Run team for displaying extra ordinary endurance and physical as well as mental stamina for establishing a new national record of 50 consecutive half marathons in the India Book of Records. DG EME praised the team for motivating thousands of school children and college students to imbibe the spirit of adventure and physical fitness. He thanked Ministry of AYUSH, Ministry of Urban affairs, India Book of Record and all the educational institutions of NCR who helped the team in spreading the awareness of healthy living & cleanliness amongst the masses in NCR.