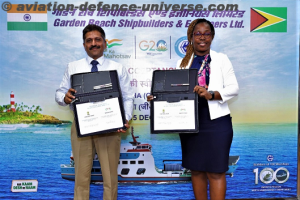 Kolkata. 16 December 2022.  Garden Reach Shipbuilders and Engineers (GRSE) Ltd and Transport & Harbours Department (T&HD), Cooperative Republic of Guyana signed the 'Technical Acceptance' document of the Ocean-Going Passenger & Cargo Ferry Vessel designed and built by GRSE. The technical acceptance was signed by Cmde PR Hari, IN (Retd.), CMD GRSE and Ms Yurlander Hughes, Transport and Harbours Department (T&HD), Guyana, at Kolkata in the presence of officials from GRSE, Ministry of Public Works, Govt of Guyana and Indian MEA. The vessel shall now be transported to Guyana for the final delivery.
On 13 Jan 21, GRSE and T&HD, Government of Guyana signed the contract for the construction of the Ocean-Going Vessel. The Shipyard bagged this prestigious export contract through competitive bidding. The design incorporates enhanced safety and operational features. The ship was launched on 15 Jun 2022 by Mrs Joan Edghill the spouse of Hon'ble Bishop Juan Anthony Edghill, Minister of Public Works, the Cooperative Republic of Guyana and within six months GRSE has achieved the 'Technical Acceptance' of the vessel.
The 70 m long vessel with a displacement of 1700 Tonnes is propelled by two diesel Engines and Twin Disc Gear Boxes to achieve a maximum speed of 15 Knots. The ship has been designed by the GRSE in-house design team and can accommodate 294 passengers (including 14 crew members) along with 14 cars, 02 trucks, and 14 containers & cargo. The vessel shall operate in the coastal and riverine area of Northwest District of Guyana. The Indian built vessel plying in Guyana would herald in better ties between the two nations.
Speaking on the occasion, Ms Yurlander Hughes expressed satisfaction over the execution of the project by GRSE as per specifications and within timelines. Addressing the gathering, Cmde PR Hari (IN, Retd), CMD GRSE, reiterated the role of the Indian High Commission in Guyana in ensuring the fructification of the project. He lauded the support from the officials of the T&HD Guyana in providing prompt clearances for ensuring the smooth progress of work in India. The CMD also conveyed his appreciation to the production partners, OEMs and Classification Agency ABS for their unstinted support in timely execution of the project.
GRSE is currently executing seven shipbuilding projects including three Advanced Frigates under Project 17A, four Survey Vessels (Large) & eight Anti-Submarine Warfare Shallow Water Crafts for the Indian Navy, one Fast Patrol Vessel for the Indian Coast Guard and Next Generation Electric Ferry for Government of West Bengal.