Singapore. 04 March, 2016.Singapore Airlines has added the A350 XWB to its fleet , adding to  the carrier's current Airbus widebody inventory that includes A380s and A330s.
Having actively participated in the A350 XWB programme's design and definition in close collaboration with Airbus, Singapore Airlines is equipping its aircraft with the carrier's newest-generation cabin products to provide maximum comfort for passengers, making the most of the A350's Xtra-wide cabin.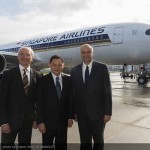 The A350 XWBs ordered by Singapore Airlines are the A350-900 version, with the 67 aircraft being acquired to include seven having ultra-long range capability for flights of up to 19 hours. This will enable the carrier to resume non-stop service to the U.S. – ranked among the world's longest routes without a stopover – which previously were performed by Singapore Airlines' Airbus A340-500s.
Singapore Airlines has a long relationship with Airbus, having introduced the cornerstone A300 into the carrier's service in February 1981; followed in November 1984 by the shorter-fuselage, longer-range A310-200 version. In February 2004, Singapore Airlines inaugurated its first A340-500 service by setting a non-stop commercial flight record from Singapore to Los Angeles, subsequently bettering this record in June 2004 with non-stop Singapore-Newark flights.
The carrier marked another airline industry milestone in October 2007 by inaugurating the world's first A380 commercial flights, and expanded its Airbus fleet in January 2009 with the A330-300's introduction.
Today, Singapore Airlines has all members of Airbus' in-production widebody jetliner family in its inventory: the A330, A350 XWB and A380.