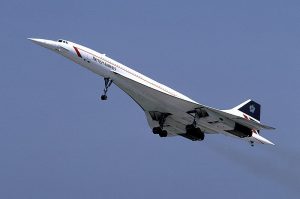 New Delhi. 21 January 2019. As the sun set in the horizon today we at ADU were remembering the marvel of the aviation world the thought of which even after decades of fading away gives goose bumps . No prizes for guessing today is the anniversary of the first flight of the flying beauty- the Concorde.
British-French turbojet-powered supersonic passenger airliner that was operated from 1976 until 2003 had a maximum speed over twice the speed of sound at Mach 2.04 (1,354 mph or 2,180 km/h at cruise altitude), with seating for 92 to 128 passengers. First flown in 1969, Concorde entered service in 1976 and continued flying for the next 27 years.
Concorde was jointly developed and manufactured by Sud Aviation (later Aérospatiale) and the British Aircraft Corporation (BAC) (later BAe and BAE Systems) under an Anglo-French treaty. Twenty aircraft were built, including six prototypes and development aircraft. Air France (AF) and British Airways (BA) were the only airlines to purchase and fly Concorde. The aircraft was used mainly by wealthy passengers who could afford to pay a high price in exchange for the aircraft's speed and luxury service. For example, in 1997, the round-trip ticket price from New York to London was $7,995 ($12.5 thousand in 2018 dollars), more than 30 times the cost of the cheapest option to fly this route.
The original program cost estimate of £70 million met huge overruns and delays, with the program eventually costing £1.3 billion. It was this extreme cost that became the main factor in the production run being much smaller than anticipated. Later, another factor which affected the viability of all supersonic transport programmes was that supersonic flight could only be used on ocean-crossing routes, to prevent sonic boom disturbance over populated areas. With only seven airframes each being operated by the British and French, the per-unit cost was impossible to recoup, so the French and British governments absorbed the development costs. British Airways and Air France were able to operate Concorde at a profit, in spite of very high maintenance costs, because the aircraft was able to sustain a high ticket price.
Concorde flew regular transatlantic flights from London's Heathrow Airport and Paris's Charles de Gaulle Airport to John F. Kennedy International Airport in New York, Washington Dulles International Airport in Virginia, and Grantley Adams International Airport in Barbados; it flew these routes in less than half the time of other airliners.