Kolkata. 10 June 22. Commodore P R Hari, IN (Retd), took over as Chairman & Managing Director, Garden Reach Shipbuilders & Engineers (GRSE) Ltd on 10 Jun 22. He has a vast experience of over 32 years in warship operations, maintenance, design and shipbuilding. He has been in charge of Production Planning of all the new construction ships built at the Shipyard since 2016 and assumed charge as Director (Personnel) of the Company on 21 Oct 19 and headed the Human Resources, Corporate Planning and Technical functions of GRSE including ERP and Yard Modernisation.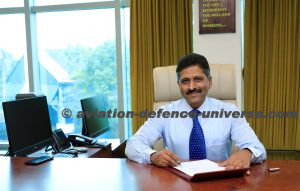 Cmde Hari served for over 28 years in the Indian Navy where he has served in Senior appointments onboard Warships and at Naval Repair Organisations. He also held important Staff Appointments and also steered the Indigenous Aircraft Carrier project as Warship Production Superintendent, Kochi. He holds a Bachelor's Degree in Mechanical Engineering and a Master's in Defence & Strategic Studies. An alumnus of the Defence Services Staff College, Wellington, the officer also underwent the 5th Higher Defence Orientation Course at the Army War College, Mhow and the prestigious Naval Higher Command Course at Naval War College, Goa. Cmde Hari is a keen sportsman, a voracious reader, and an extempore speaker who occasionally pens his thoughts.
Cmde Hari has a vision to take GRSE to the next level of existence by inducting latest technology such as Artificial Intelligence in operations and adopting transformational changes in human resource management. He is an inspiring force, leading his entire workforce towards timely execution of ongoing projects and execution of the robust order book whilstlooking ahead and participating in competitive tendering processes towards bagging orders for modern warships. His aim is to create competitive advantage through creation of modern infrastructure and technical collaborations for building modern warships.
GRSE with the unique experience of building the'Kamorta' Class Anti-Submarine Warfare Corvettes and the 'Kora' class guided missile corvettes will certainly be a key contender to clinch orders for the Indian Navy's Next Generation Corvette (NGC) announced recently by the Defence Ministry and his astute leadership could prove to be the game changer.