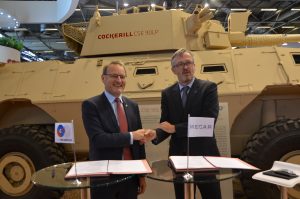 Paris. 15 June 2016. CMI Defence SA and Mecar SA, the latter a wholly owned subsidiary of NEXTER SA of France, have announce the signing and implementation of a Framework Agreement, whereby CMI Defence will assume responsibility for marketing and sales of Mecar's suite of direct fire medium and large calibre ammunition in defined territories..
Commenting on this Agreement,  Jean-Luc Maurange, President of CMI Defence stated,"This partnership with a world-class ammunition manufacturer represents a major milestone in CMI Defence's market strategy of expanding its offering to its customers. It will contribute to CMI Defence remaining at the forefront of technological developments thereby enhancing our state-of-the-art ordnance offering by combining direct fire ammunition and weapons' systems."
Under the terms of this agreement, CMI Defence will directly supply its key customers with high quality direct fire ammunition specifically with regards to 30mm, 90mm and 105mm calibres developed and manufactured by Mecar.
Simon Haye, Managing Director of Mecar SA stated, "We believe that this partnership with CMI Defence, and their market-leading platforms, will be mutually beneficial to both parties and will provide a very attractive offering to new and existing customers."