Paris. 14 June 2016. In order to complement its own production capacities, CMI Defence has contracted an order to Hanwha Defense Systems for approximately 200 painted open shells of Cockerill® 3000 Series. This takes place within the Strategic Partnership that exists between CMI Defence and Hanwha Defense Systems. Deliveries will take place from late 2016 until early 2020.
In 2014, CMI Defence won a multi-year contract pertaining to the delivery of a large series of gun-turret systems from its Cockerill® 3000 Series. This major contract also covers a series of simulation systems (virtual immersive and embedded) as well as support services (training in the handling and maintenance of systems and in military tactics, maintenance services, spare parts, etc.).
Jean-Luc Maurange, President of CMI Defence, stated: "To complete our French and Belgian-based manufacturing facilities, CMI Defence entrusted the manufacturing of some 200 painted opens shells of Cockerill® 3000 Series to Hanwha Defense Systems. This operation is a result of the privileged strategic partnership set up between both companies in 2015."
Hanwha Group is one of the biggest corporate groups and is recognised as the largest defense business in the Republic of Korea. As a member of the Hanwha Group, Hanwha Defense Systems is a comprehensive defense company boasting cutting-edge technologies and superior production capabilities in various sectors beyond armoured vehicle systems, including Air Defense Systems, Launcher Systems, high-precision navigation and laser weapons. Hanwha Defense Systems is a major partner to the Republic of Korea Government, in particular having supplied the highly successful K200 and K21 series. Hanwha Defense Systems 's armoured vehicles are world-famous for their exceptionally high tactical and strategic mobility.
Hyunwoo Shin, President & CEO of Hanwha Defense Systems, stated: "I would like to thank CMI Defence for hosting this signing ceremony and for providing this contract opportunity based on our strategic partnership. After several years of developing this partnership, I believe that this contract will mark the start of long journey of business success together. The recent acquisition by Hanwha Group boosts and enhances this partnership and collaboration. We will continue to advance down this path."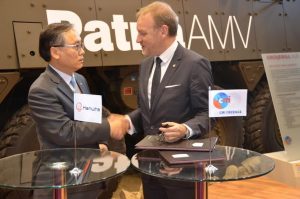 The Cockerill is in the business of making  flexible, low-weight, highimpact, weapon systems. Under the CMI Company, the Cockerill brand is successfully delivering cutting-edge capability to modern high-mobility land forces. The core of the Cockerill brand – heavy firepower at light weight – remains constant. Recognized as designer and integrator of weapon systems, CMI Defence offers a complete capability solution including hardware, comprehensive training, simulation, spares, maintenance support and through-life capability upgrade services. CMI Defence is the undisputed leader in multifunctional, high-power weapon systems for light and medium weight armoured vehicles.