New Delhi. 25 May 2017.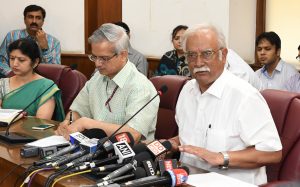 Minister for Civil Aviation P. Ashok Gajapathi Raju announced that his Ministry would soon be launching the second round of bidding under RCS-UDAN. The Minister informed that Airline Operators have shown keen interest in undertaking operations under the scheme and on the basis of the experience of the first round of bidding his Ministry wanted to make the process more simpler and attractive. He also informed that a stakeholders consultation meeting is being organized on 7th June, 2017, to discuss the proposed amendments and key aspects of the scheme for the second round of bidding. Following this, the stakeholders will be expected to submit their inputs and observations by 9th June, 2017.
The Secretary for Civil Aviation, R.N. Choubey highlighted the six aspects of the scheme for which suggestions have been invited from stakeholders. Under Aspect No.1 proposes to consider routes between two airports which are neither under-served nor un-served. This is being proposed to further encourage intra-regional connectivity. Aspect No.2 deals with whether fixed wing aircrafts should be allowed to operate below 150 km for specific areas/regions. Aspect No.3, the exclusivity clause is sought to be made more flexible depending upon operators and certain rules.
Under Aspect No.4, the Ministry has sought suggestions with regard to minimum number of RCS seats. Also whether the minimum number and maximum number of RCS seats could be stretched over a period of a week instead of a particular flight. Opinion have also been sought whether seasonal flights should be permitted under RCS. Aspect No.5 asks stakeholders to see whether non-RCS routes should be included as part of the network proposal. Aspect No.6 seeks suggestions from stakeholders to incentivized helicopter operations under RCS.