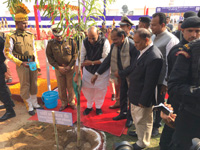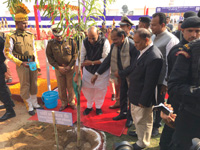 Ranchi. 08 January 2016. Home Minister Rajnath Singh inaugurated the CISF Eastern Sector Headquarter and laying foundation stone of the CISF Residential Complex in Ranchi.
The Union Home Minister praised the CISF as being unique, terming it as a multi-dimensional force facing many challenges. It is guarding not only strategic installations but also operating in LWE areas, he noted. Assuring funds to the CISF, he said that when infrastructure of any force is developed it helps in strengthening the capabilities of our forces.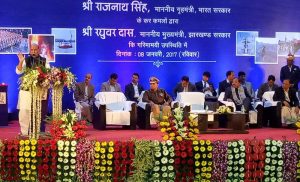 An allotment of 100 acres of land to CISF for the Central Training School was also announced.The Union Home Minister later reviewed the LWE situation in Jharkhand state at a meeting with the Chief Minister and Senior Officers.Director General, CISF, O P Singh said for the first time a Dog Training School has been established in CISF campus at 2nd Reserve Battalion Ranchi.