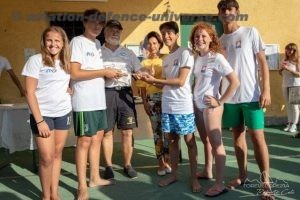 La Spezia.  25 June 2018. Seafuture 2018 was 360 ° sea for what could not miss a sail: was held at the Cinque Terre National Park Regatta organized with the collaboration of the Sea School Santa Teresa, the 5 Terre National Park, CSSN, DLTM, the Working Committee of Velici Gulf, the Italian Naval League – Section of La Spezia, Sailing Section of the Italian Navy in La Spezia.
At the sail was attended by about 30 boats that have represented the meaning of inclusiveness by opening the door to new teams in the competition, breaking down barriers both physical and mental. The difficulties and obstacles for the life boat have become so, opportunities for dialogue and communication, mutual understanding and dialogue between those who love the sea.
All this, in an environment, the Gulf of La Spezia and the coast that brings together the countries of the 5 Lands, which has been able to overcome the challenge dictated by a water consisting territory of land, making its source of life and sustenance.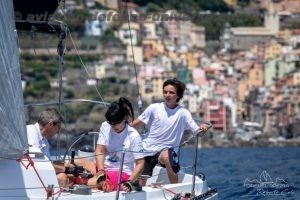 In keeping with the Europe 2020 strategy for smart, sustainable and inclusive growth, the initiative to enter a Veleggiata in the National Park of 5 Terre was aimed precisely at enhancing the resource as water, if safeguarded and protected as a virtuoso in the case of the Park, is the ideal environment aggregation and integration.
In the morning the crews found themselves on the terrace of the Sea School Santa Teresa for breakfast and briefing by Attilio COZZANI and Giorgio Balestrero. Commander Julius Colotto and the First Deputy Chief of cl. Salvatore Gallo, of the Harbor Coast Guard, they then explained the rules of proper sail.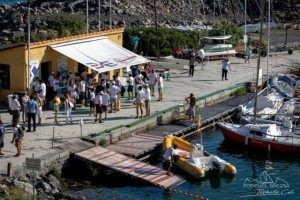 Schooner Pandora and Moby Dick boarded the boys of alternation school work, who have given their services to Seafuture, to lead them to follow the sail.
The boats, games in front of the Church of Porto Venere, have traveled the 5 Terre coast before returning to the islands Palmaria, Tino and Tinetto, crews were able to enjoy a truly exceptional panorama.
Great excitement for everyone when Nave Vespucci, national symbol of the sea and sailing, before leaving the Gulf, has marched in front of the port of Santa Teresa to greet the sailors.
The day ended, the presence of numerous authorities, also representing the Liguria Region, along with Christian Pagni, organizer of the event, who greeted all the participants giving them a memento of the day.
The two challenge were assigned to the crew of the association and to Vaquita Unlike Sailors waving, composed of young people, the sea Santa Teresa School.
Fair winds to all and see you next Sailing day – Seafuture