By Col NB Saxena
New Delhi. 22 April 2016. General Dalbir Singh, Chief of Army Staff (COAS)  witnessed the conduct of exercise SHATRUJEET in Rajasthan today.  The Army Chief was received by Lieutenant General Sarath Chand, General Officer Commanding-in-Chief, Sapta Shakti Command in the exercise location.  The COAS was briefed on the operational plans and conduct of the exercise by Lieutenant General Shokin Chauhan, General Officer Commanding, Strike Corps.
Exercise is being conducted as part of regular training where the Strike Corps is practicing and honing war fighting skills.  One airborne brigade (Parachute Brigade) is being dropped tonight behind simulated enemy lines to address objectives in depth by vertical envelopment and to maintain high tempo of operations. Composite infantry and mechanised columns of Strike Corps will manoeuvre deep into enemy territory and  link up with the airborne force.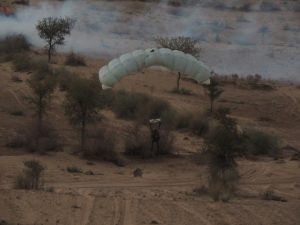 Networked radars, UAVs and aerial surveillance platforms will ensure continuous flow of information resulting in battlefield transparency and enable commanders to assess and suitably modify their operational plans to meet the emerging challenges and exploit fleeting opportunities.  Mobile communication systems integrated with terrestrial network will provide efficient communication on move across the battlefield.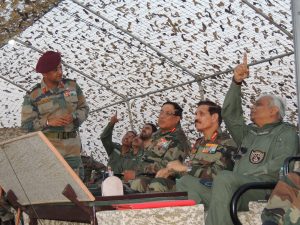 The COAS appreciated the standard of training of the formations and complimented them on their battle readiness.During his visit, the COAS reviewed complex and integrated operational manoeuvres of the formation.  Synergy between Army and Air Force in executing air-land battle and the ability to orchestrate battle in network centric environment were successfully validated.