New Delhi, 21 May 2018. Chetak Corps the Sapta Shakti Command is currently carrying out an exercise in the Mahajan Field Firing Ranges close to Suratgarh to validate their operational plans.
Based on the central role of carrying out offensive operations through a joint air land battle in network centric environment employing modern intelligence, surveillance and reconnaissance concepts and equipment, thousands of troops and an array of war fighting equipment of the Chetak Corps are going through an intensive training in the deserts of Mahajan Field Firing Ranges for last two months braving the soaring mercury and adverse weather.
Christened as GANDIV VIJAY, the exercise will conclude on 23 May 18 as an integrated exercise involving multi mode mobilisation from dispersed locations to the time and place of decision in a terrain orchestrated on the lines of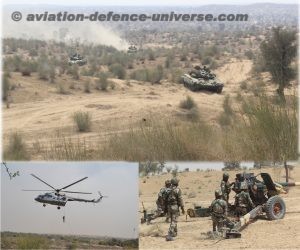 operational responsibility of the formation. The participating formations will carry out synergistic employment of long range vectors along with the Infantry and Mechanised Forces and the Air Arm to achieve a decisive victory. The capability of the support echelons to support the ops through assured just in time logistic support will also be validated.