Pune, India. 09 June 2021. Chad's defence ministry said that Central African troops attacked a Chadian military post. Chad alleges that CAR killed one soldier, and kidnapped and executed five others. The ministry said that these actions amounted to a war crime.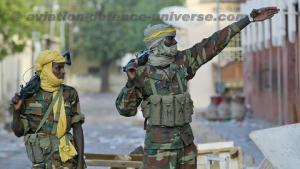 The ministry said heavily armed assailants struck in the early hours of Sunday, attacking a post manned by 12 Chadian soldiers near Chad's 1,000-km the frontier with CAR.
Chad and the CAR have called upon the United Nations and African Union to investigate the incident that occurred at a border post in which three Russians on a military mission to assist CAR were also killed.
A delegation from CAR met with Chad's interim President Mahamat Idriss Deby in response to the incident, which has threatened to sour diplomatic relations.
CAR's Communications Minister Ange Kazagui said that a firefight broke out by mistake when their soldiers were pursuing a rebel group near the Chadian border. This resulted in the deaths of troops on both sides, however, they did not specify how many Central African soldiers had died.
He said the government remained committed to peace with its northern ally and would establish a joint fact-finding mission to investigate the incident, "The government deplores the loss of human life and the injuries thus caused within the Chadian and Central African armies."
Russia's RIA news agency reported that three Russian soldiers were killed during the operation as a result of a mine explosion.
"The two parties have recognised the gravity of the situation and stress the urgency of clarifying the circumstances in which this attack was carried out," the Chadian and Central African foreign ministers said in a joint statement.
"We were attacked on our territory by the army of a neighbouring country. So that this kind of thing does not repeat itself, we are obliged to reinforce security at the border," Chadian General Azem Bermandoa Agouna said.
The allegation puts further pressure on relations between the two countries, which share a porous 1,000-km border, across which tens of thousands of refugees have fled amidst waves of rebel-fuelled violence in CAR since 2013.