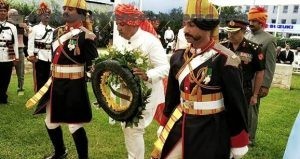 Haifa, Israel. 06 September 2018. 
The Embassy of India held a ceremony in Haifa to mark the Centenary of the Battle of Haifa when on 23 Sep 1918, Indian soldiers from the Jodhpur, Mysore and Hyderabad Lancers liberated the city of Haifa.
The ceremony was attended by a delegation from India led by Maj Gen VD Dogra and included personnel from the 61st Cavalry. The honour guard was drawn from the Indian contingent deployed as part of UN mission. The ceremony was also attended by the Mayor of Haifa, Ambassadors, Military Attaches, representatives from IDF and members of the Indian community.