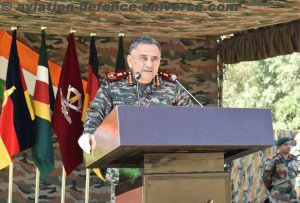 Visits forward posts in Rajouri sector of Jammu & Kashmir

Celebrates Diwali with soldiers posted on the frontlines
New Delhi. 24 October 2022. Chief of Defence Staff (CDS) Gen Anil Chauhan, accompanied by White Knight Corps Commander Lt Gen Manjinder Singh, visited forward posts in Rajouri sector of Jammu & Kashmir on October 24, 2022 and celebrated Diwali with soldiers posted on the frontlines. The CDS also laid a wreath at Naman Sthal, the war memorial of Naushera Sector and paid his respects to the bravehearts who had laid down their lives in the service of the nation.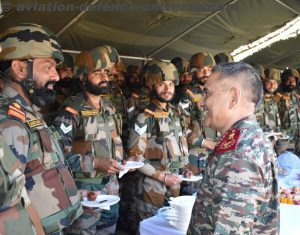 Gen Anil Chauhan was briefed by field commanders on the current operational situation and security scenario along the Line of Control (LoC). He also reviewed the development of defence infrastructure and operational preparedness undertaken despite challenging terrain and weather conditions in the region.
The CDS, while addressing the troops, exhorted them to inculcate professionalism and carry forward the rich tradition of courage and valour of the Indian Army. He also emphasised the need for operational preparedness of the highest order. The visit by the CDS on the occasion of Diwali acted as a great morale booster for troops deployed on the frontlines in challenging conditions.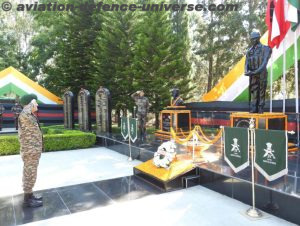 After the Partition of India and the accession of Jammu and Kashmir to India in October 1947, there followed the First Kashmir War between India and Pakistan. The Pakistani raiders, along with the rebels and deserters from the western districts of the state, captured Rajauri on 7 November 1947. The 30,000 Hindus and Sikhs living in Rajauri were reportedly killed, wounded or abducted. Rajauri was recaptured on 12 April 1948 by the 19 Infantry Brigade of the Indian Army under the command of Second Lieutenant Rama Raghoba Rane. Rane, despite being wounded, launched a bold tank assault by conveying the tanks over the Tawi river bed in order to avoid the road blocks along the main road. When the Indian Army entered the town, the captors had fled, having destroyed most of the town and killing all its inhabitants. After the arrival of the Army, some 1,500 refugees that had fled to the hills, including women and children, returned to the town. The ceasefire line at the end of the War ran to the west of the Rajouri district.
Soon after the war, the Rajouri and Reasi tehsils were separated. The Rajouri tehsil was merged with the Indian-administered Poonch district to form the Poonch-Rajouri district. The Reasi tehsil was merged with the Udhampur district. On 1 January 1968, the two tehsils were reunited and the resulting district was named the Rajouri district. The Reasi tehsil was also separated out in 2006 into a separate Reasi district. The present Rajouri district comprises the 1947 Rajouri tehsil.