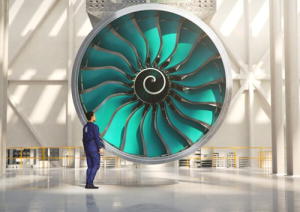 Derby, UK. 12 November 2021. Causeway Aero Group is a supply chain partner with Rolls-Royce in developing composite components within the LUCIA (Large UltraFan Composites Integrated Aerostructures) project for the UltraFan® advanced engine demonstrator. LUCIA is co-funded by the UK Government through the ATI Programme.
UltraFan is designed to deliver up to 100,000lb thrust, making it a scalable engine technology capable of powering both narrowbody and widebody aircraft, and makes extensive use of advanced materials It will set new standards in terms of gas turbine efficiency – 25% more fuel efficient than the first generation of Trent – and sustainability, with the capability to run on 100% Sustainable Aviation Fuel.
Pete Hinds, VP Engineering & Business Development at Causeway, explains that as well as the usual accessories mounted externally on the composite fan case, the demonstrator will also be heavily instrumented for ground testing at the new Testbed 80 at Rolls-Royce in Derby, UK, the world's largest indoor engine test facility. The first run of UltraFan in Derby is scheduled for 2022.
The test sensors and electronic control units will be mounted on platforms around the circumference of the fancase and connected by a complex arrangement of power cables. Conventional metal attachments and cable fasteners could not be used to secure the equipment as they would have a different rate of thermal expansion from the fan case when UltraFan is running, so the engine manufacturer has collaborated with Causeway to find a solution using composites.
He says the result is an excellent demonstration of the company's agility, as a Tier 1 integrator, to rapidly design, develop and manufacture innovative products as well as using its established local Northern Ireland supply chain to reduce costs and turnaround times.
Working with CCP Gransden Advanced Composites in nearby Ballygowan and Denroy Plastics in Bangor, the Causeway team in Lisburn selected a combination of Toray PAEK (Polyaryle Ether Ketone) and Victrex PEEK (Polyether Ether Ketone) high performance thermoplastic materials, both reinforced with carbon fibre. These materials, used in the press forming and injection moulding of components, can withstand the high loads, temperatures and vibrations associated with an aircraft engine.
A good example of Causeway's Design For Manufacture philosophy are the cable attachments. These are identical across the engine, not only reducing tooling costs, which can be significant for injection moulding, but also part number count and inventory holdings. In some locations, these are double stacked but the same system can be used on both levels.
The company also has a direct contract with Rolls-Royce for the supply of a composite plenum duct. This not only has a complex shape to ensure smooth airflow but operates in an extremely harsh environment, with high temperature, vibration and fire protection to consider.