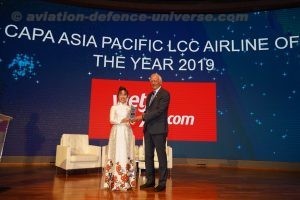 Singapore. 14 November 2019. Vietjet has been awarded the title of "Asia Pacific Low Cost Airline of the Year" by Centre for Asia Pacific Aviation (CAPA). The award ceremony took place during the CAPA Asia Aviation Summit in Singapore.
Surpassing all of its peers in the Asia Pacific region, the CAPA awards aims to annually acknowledge the airline that has been the biggest standout strategically, established itself as a leader, and has been the biggest innovator, providing a benchmark for others to follow during the year in the regional aviation industry.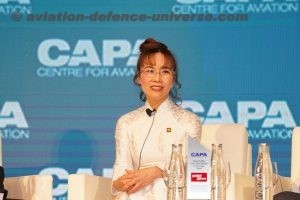 Besides ticking all the above boxes, Vietjet has also stood out for its continuous, dynamic expansion. The airline is now Vietnam's leading domestic carrier and has strongly expanded its international network. This is a highly attractive position given Vietnam's favourable economic prospects and fast-growing market.
"Vietjet continues to break the mould for a traditional low cost airline," said CAPA Chairman Emeritus Peter Harbison. "The company has a solid financial foundation and a game plan to formidably challenge some of largest operators in Asia Pacific for decades to come."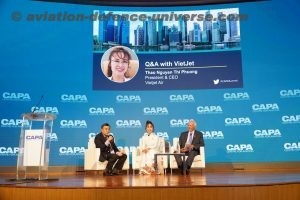 Vietjet President and CEO Nguyen Thi Phuong Thao said: "Vietjet's mission is to make breakthrough changes in the aviation industry's services. We are thankful for the trust, companionship and recognition from CAPA, the most renowned aviation organization in the Asia Pacific. We are filled with happiness to have brought flying opportunities with cost-saving fares and friendly services on new and well-furbished aircraft to nearly 100 million passengers while creating positive values to the aviation industry's community and partners."
CAPA is the leading provider of independent aviation market intelligence, analysis and data services covering worldwide developments. Established in 1990, CAPA's platforms help the aviation sector and supplier businesses stay informed, remain connected to industry leaders and fuel inspiration to drive change. Regarded as the preeminent awards for strategic excellence in aviation, CAPA first established the awards in 2003 to recognize successful airlines and airports within the Asia Pacific region.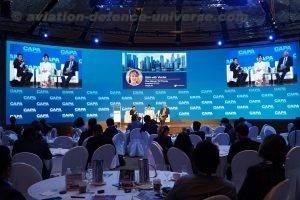 As the carrier of people, Vietjet has continually expanded its network to create more flying opportunities while saving costs for everyone. Adhering to its core values of "Safety, Happiness, Affordability and Punctuality", the airline proudly strives to ensure passengers always have a safe and enjoyable flight when flying on new aircraft with comfy seats with a choice of nine delicious hot dishes, all served by Vietjet's beautiful, friendly cabin crews. The airline also offers various modern utilities and services through e-commerce platforms.
Vietjet has been awarded the highest ranking for safety with 7 stars in 2018 and 2019 by the world's only safety and product rating website AirlineRatings.com and listed as one of the world's 50 best airlines for healthy financing and operations by Airfinance Journal in 2018 and 2019.
Receiving this prestigious award from CAPA, a leading global aviation organization, is not only a great honor for Vietjet but also a source of great pride for Vietnam's growing aviation industry.