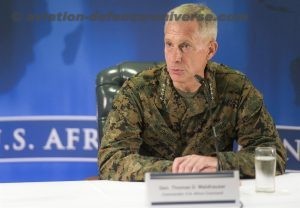 Who will be a longer-term strategic partner for Africa: The United States or China?
By Suresh Somu
Singapore. 16 March 2018. For the moment, the bone of contention is the government of Djibouti, who plan to hand over its main port to Chinese control. China is rapidly expanding its influence and power in Africa and views this port takeover as a key early move to take a prominent lead over the Americans.
Ever since Djiboutian government seized control of the Doraleh Container Terminal from Dubai-based DR World last month, reports are it intends to strike a deal with a Chinese-state-controlled firm to run the facility.
Mounting pressure on Americans
 Djibouti is strategically located at the southern entrance to the Red Sea on the route to the Suez Canal. It hosts a US military base that is home to about 4,000 personnel, including special operations forces, and is a launch pad for operations in Yemen and Somalia.
And if China gains control of the port, the American interest will be put at risk. And there is a real worry that Djibouti has been growing closer to, and is increasingly indebted to, the Chinese government.
"When we talk about influence and access, this is a classic example with regards to China, of how we've got to proceed and how we've got to be careful as we move forward," said General Thomas Waldhauser, Commander of US Africa Command in a testimony before the House Armed Services Committee.
But Waldhauser admitted that the United States hasn't developed a real strategy for competing with China in Africa and has failed to convince most Africans that a partnership based on American values such as rule of law and open markets is in their best interest.
Military analyst say Chinese expansion in Djibouti is only one part of China's overall Africa strategy, which mixes military, economic and diplomatic incentives to lure African countries away from the West and bolster China's One Belt, One Road initiative.
Is China oblivious?
The Chinese Foreign Ministry spokesman, rather ironically, mentioned his unawareness of the port situation. China has already built a military base in Djibouti, just kilometres from a critical US military base.
The spokesman added that China's co-operation with Africa was neither aimed at any third party nor aimed at excluding anyone.
"If this was an illegal seizure of that port, what is to say that government wouldn't illegally terminate our lease before its term is up," said Representative Bradley Byrne, a Republican.
Waldhauser's final warning was serious: "There are some indications of (China) looking for additional facilities, specifically on the eastern coast. So Djibouti happens to be the first – there will be more."
He is aware that the US would be unable to match the scale of China's investment throughout the continent, noting Beijing's construction of shopping malls, government buildings and even football stadiums. So for the moment, the ball is in Djibouti's court.
And they will have to make the most significant decision as to which global superpower will be a longer-term serious strategic partner for Africa.