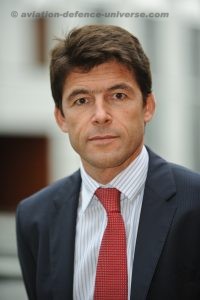 Toulouse. 17 February  2018. Airbus Helicopters is all set to see a change of guard at the helm.  Airbus has appointed Bruno Even, 49, Chief Executive Officer (CEO) of Airbus Helicopters, effective 1 April 2018. He will report to Airbus CEO Tom Enders and join the company's Executive Committee.
Bruno Even comes to Airbus from Safran where he was CEO of the Helicopter Engines business since 2015. He succeeds Guillaume Faury who will assume his duties as President Airbus Commercial Aircraft next week.
"I am very pleased that we could attract an experienced executive with Bruno Even to join Airbus," said Airbus CEO Tom Enders. "Bruno has climbed  the management ranks at Safran at a very young age. His broad background of the Helicopter business and his strong customer focus combined with Program and Engineering expertise, make Bruno the ideal candidate to succeed Guillaume Faury and to continue our successful improvement journey in a very demanding business environment."
A graduate of the Ecole Polytechnique, Bruno Even joined the French Ministry of Defence in 1992 where he was in charge of the space component's development for the Helios II satellite. In 1997, he transferred to the Ministry of Foreign Affairs to become technical advisor for the Director of Strategic Affairs, Security and Disarmament. In 1999, he joined Safran Helicopter Engines (ex-Turbomeca) where he held a number of management posts up to Executive Vice President Support and Services. From 2013 to 2015, he was CEO of Safran Electronics & Defense (ex-Sagem).