Reinforce commitment to India and Aatmanirbhar Bharat visionSpotlight on F/A-18 Super Hornet Block III, F-15EX, P-8I, AH-64 Apache, CH-47 Chinook
Showcase services business and, with it, growth in the value Boeing is creating through product lifecycle support and training
The F/A-18 Super Hornet Block III simulator to feature at show
Reinforce commitment to India and Aatmanirbhar Bharat vision
New Delhi. 03 March 2022. Boeing [NYSE: BA] will feature its range of advanced defense capabilities for India at DefExpo 2022, including the F/A-18 Super Hornet Block III, F-15EX, P-8I, AH-64E Apache, and the CH-47F Chinook.
Boeing will also outline its investments in services infrastructure, building of local capabilities, workforce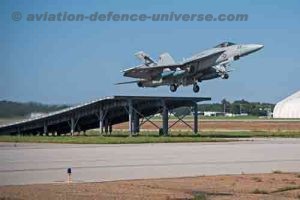 training and partnerships in India that are aimed at ensuring the Indian armed forces are always mission-ready, and operate their assets at peak condition.
Boeing's exhibit at Hall 8, U.S. Pavilion, Stall 8R.28 28 with the theme "Digitally Advanced. Simply and Efficiently Produced. Intelligently Supported" will display advanced defense capabilities on offer to the Indian armed forces, highlight partnerships on existing defense programs with the Indian Navy and Indian Air Force, and share details about the strategic investments the company has made in India's aerospace and defense ecosystem.
"India is at the front and center of significant opportunities for Boeing with our proven portfolio of products and services, offering unmatched operational capabilities to India's defence forces across the entire mission spectrum and through their product lifecycle," said Salil Gupte, president, Boeing India. "We are confident about the long-term growth potential of India's defence sector and are committed to supporting and enabling its progress."
During DefExpo, Boeing will showcase the advanced multi-role capabilities of the F/A-18 Super Hornet Block III as the best choice to meet the Indian Navy's carrier-borne fighter jet requirement. Visitors will be able to experience virtually, flying the Boeing F/A-18 Super Hornet Block III on a simulator, and learn more about its ability to conduct a wide range of missions, carrier-based aviation, and superior capabilities. The company will also be highlighting its portfolio of products and services that can help India meet their current and future requirements for national security, including the F-15EX, P-8I, CH-47F (I) Chinook, AH-64E Apache, KC-46, and growth in training, sustainment, and performance-based logistics solutions.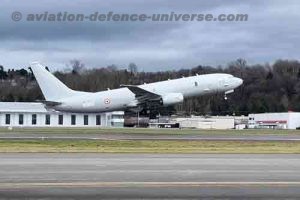 India already operates 11 C-17s, 22 AH-64 Apaches (with six more on order), 15 CH-47 Chinooks, 12 P-8Is, three VVIP aircraft and two Head of State aircraft. In addition, Boeing is steadily increasing its sourcing from India and expanding its supplier network, its contributions towards Make in India, and investments that aim to fully harness India's manufacturing capability, talent, innovation and productivity. The company is committed to the Aatmanirbhar Bharat vision, and to bringing the best of Boeing to India and the best of India to the world.