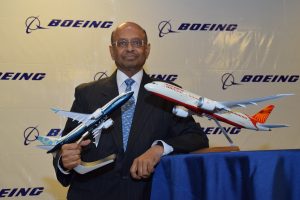 Worried about the fuel rates in India
MOM is still a question mark
By Sangeeta Saxena
New Delhi. 01 August 2017. "India will need 2100 new planes valued at 290Billion USD. In 5 years the seat size will grow by 75%. Regional connectivity Scheme will allow new routes to open. 737 will be the most viable option for use in this growth," said Dinesh Keskar, senior Vice President, Asia Pacific and India Sales, Boeing Commercial Airplanes while releasing its annual Current Market Outlook (CMO) for India.
"The worry is the fuel price in India which is 84% higher than the world average in USD. Traffic growth is more than 20 percent, far exceeding the global average of 7.3 percent. Domestic passenger traffic increased 23 percent from 2016.  Low-cost carriers continue to account for more than 60 percent of all flights," he added.
Boeing's order book for India looks impressive with the 24th 787 handed over to Air India in July, 3 more scheduled for August and 1 for October. 13 777  will be in India by first quarter of 2018. New Airplane Deliveries to India between  2017-2036 are very optimistic both in numbers and values. Boeing will deliver ten 90 and below seater regional jets worth nearly 1 Billion USD, 1780 single-aisle 90 – 230 seater valued at $195B, 180 small wide body with seating capacity 200 – 300 worth $50B, 130 Medium/Large widebody 300 and above seater valued at $45B making a total of 2,100 which is 5.1% of world total estimates and valued at $290 which is 4.8% of world total.
Boeing has been increasingly bullish about the opportunities for a new-generation aircraft to straddle the gap between existing single and twin-aisle passenger jets, as it launched a stretched version of its existing 737 Max narrow body plane. And this is where MOM as it is fondly called by Boeing and the world attracts attention at all fora.  At the last Paris Air Show Kevin McAllister, head of Boeing Commercial Airplanes believed demand for a so-called "middle of the market" (MOM) aircraft could be close to 4,000 jets. It could seat 225 to 275 persons, should fly 5000 miles on one tank full and should be just the answer. Keskar when questioned on the development of MOM aircraft informed Boeing has been in discussions with more than fifty airlines and will announce to the world when there is something concrete to tell. "The challenge is to deliver twin aisle comfort at single aisle price," he said.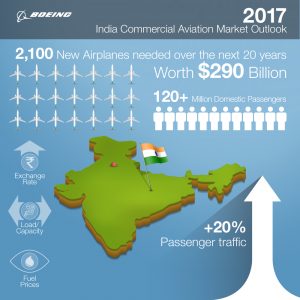 Today, 64 percent of the world jet fleet is single-aisle airplanes. Over the next 20 years, this share will increase to account for about 69 percent of the global fleet, more than 32,000 passenger airplanes in 2036.
The Asia-Pacific region has become one of the biggest aviation markets in the world. China, India, and other emerging markets in the region are the main engines of growth. The significant increase has been due largely to regional economic growth, market liberalization, new technology enhanced airplanes expanding further market opportunities, and successful evolution of new business models.
Over the past decade, jet fleets of Asian airlines have nearly doubled, from 3,600 to 7,000. The number of Asian airlines with jet fleets has grown from 200 to 250, while airplane orders by these airlines have increased from 1,940 to 4,400. The capacity that these airlines provide has grown on average by almost 10 percent annually. Seat capacity provided by the low-cost-carrier (LCC) business model has grown on average by 22 percent annually, currently providing the most number of seats in the global LCC market.