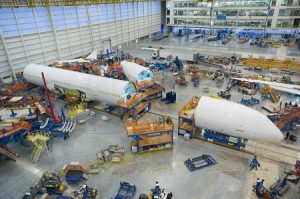 North Charleston, S.C. 08 December 2016 . Boeing started final assembly of the first 787-10 Dreamliner, marking yet another on-time milestone for the development program.
The first 787-10 will cycle through Boeing South Carolina's Final Assembly facility as all major sections are joined, interior and exterior components completed, power turned on and production tests begin.
"As we enter the next phase of the 787-10's development, we eagerly watch our first airplane come to life," said Ken Sanger, vice president and general manager, 787 Airplane Development, Boeing Commercial Airplanes. "This is the result of years of preparation and solid performance by our Boeing teammates and supplier partners. This achievement is another example that demonstrates Boeing's ability to develop great airplanes in a disciplined fashion in order to meet our customer commitments."
The first 787-10 is expected to fly in 2017 and first delivery is scheduled for 2018.
To date, Boeing has received 154 787-10 orders from nine customers.