Performance on Next-Generation 737 contract earns supplier additional work
Demonstrates Boeing's commitment to developing Indian supply chain 
NEW DELHI, April 26, 2016 – Boeing awarded a contract to Bharat Forge for titanium forgings for the Boeing 777X.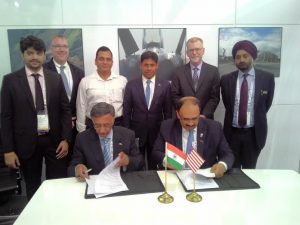 "We are pleased to expand our partnership with Bharat Forge who started supplying titanium forged flap tracks for the Boeing Next-Generation 737 airplane earlier this year. They've demonstrated not only a high level of technical expertise, but also an understanding of the need to meet market requirements for affordability," said Pratyush Kumar, president, Boeing India. "This contract demonstrates our commitment for building a globally competitive aerospace supply chain in India to realize the full potential of the Make in India initiative."
The titanium forgingswill be developed and manufactured by Bharat Forge using a closed die forging process. The first two forgings are scheduled to begin shipping to Boeing in late 2016, and will be followed by two more forgings in early 2017.
Bharat Forge completed its first shipment of titanium flap-track forgings for the Next-Generation 737 earlier this year. The company will also supply forgings for the 737 MAX, scheduled to enter service in 2017.
"This second contract is the result of our successful partnership with Boeing and brings to forefront our capabilities in precision manufacturing techniques to offer high end technology and value in the aerospace sector," said SubodhTandale, executive director, Bharat Forge. "We are well versed in the stringent process requirements for titanium forgings and have mastered the process. We will be supplying critical wing components for one of the most advanced Boeing aircrafts. This also confirms our commitment to meet the aspirations of the Make in India initiative."
The contract reinforces Boeing's global supply chain strategy to expand its forging supply base through partnering with high performing companies like Bharat Forge. Boeing currently has forging contracts with suppliers in Asia, Europe, Russia, and North America and will continue to add new sources of forgings around the world.