Boeing continues to pursue collaboration opportunities to further develop the aviation industry in India.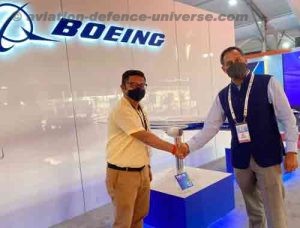 New Delhi. 28 March 2022. Boeing [NYSE: BA] today announced plans to explore strategic collaboration opportunities to enhance safety and quality in early career flight training with Indira Gandhi Rashtriya Uran Akademi (IGRUA), a premier flight training organization under the Indian Ministry of Civil Aviation (MoCA).
Boeing's strategic collaboration with IGRUA is an important step in advancing aviation training in the country through collaboration with flight training and development organizations to enhance capabilities and safety.
"IGRUA has always set the bar for training in Indian aviation. The collaboration with Boeing will help IGRUA set the bar even higher to achieve global standards. The collaboration will not just benefit the next generation of Indian pilots, but the entire aviation ecosystem of the country will benefit from Boeing's experience in safety and quality. IGRUA is proud to be associated with Boeing," said Krishnendu Gupta, Director, IGRUA.
IGRUA's experience in India and the surrounding region will provide key insights into identifying opportunities for the organizations to work together in the early career flight training field.
"Boeing is committed to supporting and investing in the Indian Government's Aatmanirbhar Bharat vision of continuing to develop India as an aviation hub," said Salil Gupte, president, Boeing India. "Our strategic collaboration with IGRUA will look at ways to further emphasize safety and quality to aspiring airline cadets in training and throughout their careers," added Gupte.
Boeing intends to further focus on developing both early career and professional flight training in India through collaborations, scholarships, experiential learning, innovation and technology.