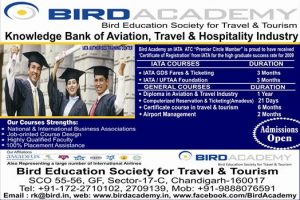 Yelahanka, Bangalore. 22 February 2019. Bird Academy is showcasing the first of its kind Aviation Multi-Skill Development Center (MSDC) at Aero India. This centre endeavors to uplift the under privileged youth, especially women by training them and skilling them to head start their careers in aviation and providing the aviation industry with young promising professionals.
On participating in the largest aerospace exhibition Radha Bhatia, Chairperson, Bird Group shared, ''According to the aviation ministry, the Udaan regional connectivity scheme is expected to double the number of operating airports in India by the next decade, which will lead to several job opportunities for aspiring young professionals. To meet this demand, the Aviation Multi Skill Development Centre was set up at Chandigarh where we train the youth by skilling them appropriately for building a career in aviation industry. Our objectives is to provide high quality learning in a modern set-up to our students and provide the industry with the best professionals.  We welcome events like Aero India which enable us to achieve our objective by connecting us to all the key stakeholders and allowing us to showcase our initiatives.''
Bird Academy is a renowned name for imparting aviation education in the country for over 20 years and is working towards the government's vision of Skilling India and 'Hunar Se Rozgaar Tak'. The Aviation Multi-Skill Development Center at Old Chandigarh Airport is established as the country's first and only 5-star rated Aviation Multi Skill Development Centre (AMSDC) under the CSR initiative of Airports Authority of India (AAI) in collaboration with National Skills Development Corporation (NSDC) and Aerospace & Aviation Sector Skill Council (AASSC).
The center has been set-up under the vision of contributing towards a skilled aviation ecosystem in the country and the mission to skill and nurture underprivileged youth of the country in order to enable them head start their careers in aviation industry.