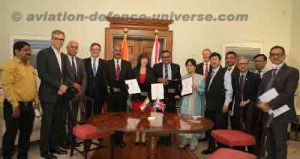 New Delhi. 28 April 2022. The signing of a Memorandum of Understanding (MoU) between Bharat Heavy Electricals Limited (BHEL) and GE Power Conversion has provided a boost to the indigenous capability in the field of advanced technology for Integrated Full Electric Propulsion System.
The MoU was signed in the presence of Jeremy Quin MP, UK Minister of Defence Procurement, Hon Alex Ellis, British High Commissioner to India, Mr Anurag Bajpai, Joint Secretary Defence Industrial Promotion, Dr. Nalin Shinghal, CMD BHEL, Ms. Renuka Gera, Director (IS&P) BHEL, Syreeta Jeffs and Balaji Parthasarathy, Directors of GE Power Conversion, Sh. J.P Srivastava, Executive Director (IS) BHEL.
With the signing of the MoU, the expertise and facilities of GE Power Conversion and BHEL can be leveraged for quick induction of this advanced technology, combining indigenous manufacture, by the Indian Navy, which has been at the forefront of Aatmanirbhar Bharat – Make in India programme.
"Prime Ministers of the United Kingdom, Rt Hon Boris Johnson MP, and India, Shri Narendra Modi, announced in their Joint Statement on 22 April 2022 the establishment of a Joint Working Group on India-UK Electric Propulsion Capability Partnership with the goal of fostering military and industrial collaboration in maritime Electric Propulsion systems. I am delighted that GE Power Conversion and Bharat Heavy Electricals Ltd are signing an MoU today as a first step of an exciting collaborative journey for the UK and India. GE Power Conversion was integral to an Industry-Government partnership which developed the UK's world-leading electric propulsion capability currently in operation with our Royal Navy's Destroyer and Aircraft Carrier fleets. With proven ability to support India's frontline ships, BHEL is a perfect partner for this endeavour. This collaboration between GE Power Conversion and BHEL characterises the UK's commitment to partnership with India in support of India's Aatmanirbhar Bharat and will, I am sure, be the first of many." Said Defence Minister Jeremy Quin.
GE Power Conversion is a world leader in electric propulsion, with equipment installed on some of the latest platforms of the US Navy and the Royal Navy, including the Queen Elizabeth class of aircraft carriers.
These systems provide flexibility in selection and layout of power generation equipment and drive elements with enhancement of stealth features and fuel efficiency. Keeping in mind the matured state of the technology and potential for integration, electric propulsion has been identified as a key technology for the Indian Navy on new construction platforms
With decades of experience and a deep understanding of naval requirements and standards, GE Power Conversion has the capability to provide integrated solutions for design, integration, installation, and life cycle support of electric propulsion systems.
BHEL, a central public sector undertaking, is one of India's largest engineering and manufacturing enterprises in the energy and infrastructure sectors and a leading power equipment manufacturer globally. BHEL has been a reliable supplier of critical equipment and services in the Defence and Aerospace sector for over three decades. Towards this, specialised manufacturing facilities and capabilities have already been set up with the aim of making a major contribution towards self-reliance in Defence equipment production under the Aatmanirbhar Bharat Abhiyan of Govt of India.
GE's powerful electrical networks and equipment are capable of supporting a ship's energy requirements, including propulsion, high-power sensors, service loads and pulse power for defence systems. GE's dependable naval technologies are shock rated and proven on naval applications from 3MW to 110MW, and include naval electric motors and generators, switchboards, power converters, power management and automation and control systems. GE's naval centre of excellence teams bring integrated system design expertise, built on deep understanding of naval standards, vessels and lifecycle demands.