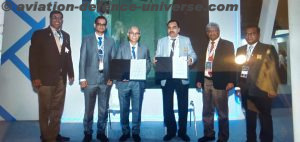 Gandhinagar, October 19, 2022: Navratna Defence PSU Bharat Electronics Ltd (BEL) has signed an MoU with Yantra India Limited  (YIL), a Defence PSU for co-operation in the areas of Ammunition Hardware and Military Grade Components to jointly address the requirements of Indian Defence and Export markets.
The MoU aims at leveraging the complementary strengths and capabilities of BEL and YIL and sharing of manufacturing and Test infrastructure/resources for the production of Arms and Ammunition and related systems.
About YIL
Yantra India Limited is an Indian state-owned Defence company, established in 2021 as part of the restructuring and corporatisation of the Ordnance Factory Board into multiple Public Sector Undertakings. YIL has its production facilities at eight locations and primarily manufacture specialised components and equipment required for the manufacture of hardware for small to high caliber ammunitions, rockets, bombs, fuzes, etc. It also produces special grade steel and aluminum alloy forgings/castings/extrusions, etc.
About BEL
Bharat Electronics Ltd (BEL), a Navratna DPSU under the Ministry of Defence, Government of India, established in 1954 at Bengaluru, to meet the needs of the Indian defence services for electronics Equipment's, Systems and Services. Over the years BEL has grown into a multi-product, multi-technology, multi-unit company engaged in the design, development, manufacturing, supply and support of wide range of defence electronics products, systems, strategic components, services and select non defence products, servicing the needs of customers in India and abroad.
BEL has a strong presence in Radar and Fire Control Systems, Weapon Systems, Communication, Network Centric Systems (C4I), Electronic Warfare Systems, Avionics, Anti-Submarine Warfare Systems & Sonars, Electro-Optics, Tank Electronics, , Homeland Security, , Gun Upgrades, Strategic Components etc. BEL has been continuously striving to expand its solutions for the Non-Defence domain like EVMs, Renewable energy, Energy storage products, Smart Cities, Jammers, Software etc.
Further BEL has diversified into Arms & Ammunitions, Seekers & Missiles, Unmanned Systems, Network & Cyber security, Medical Electronics, Space Electronics, EV , Railway/Metro, Civil Aviations to meet the customer requirement and address the emerging opportunities.