Bangalore. 9 June 2016. Nataraj Krishnappa took charge as Director (Other Units) on May 1, 2016. He was GM (Missile System) at BEL-Bengaluru before his elevation. Mr Nataraj Krishnappa joined BEL-Ghaziabad on March 1, 1984, after graduating in Mechanical Engineering from the National Institute of Engineering, University of Mysore. In 1986, he was transferred to BEL's Panchkula Unit, where he put in 15 years of service. Panchkula Unit was in its formative stage and he belongs to the first batch of engineers to be posted to the unit.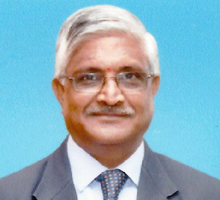 He has worked in various departments responsible for manufacturing and procurement functions. He headed Product Group-I and has made significant contributions to the manufacture of Communication equipment such as Handheld Radio and STARS V Manpack Radio as well as Encryption products. In the year 2000, he was nominated for the Six Sigma programme in BEQI and subsequently did a project in optimising the reflow soldering process of the Crypto Card of STARS V Radio. In 2001, he was transferred to Corporate TORQUE and nominated Six Sigma Co-ordinator for the Other Units of BEL. He worked towards institutionalising the Business Excellence journey in BEL. During this period, he also worked closely with HR consultants to conduct Employee Satisfaction Surveys in the organisation. In June 2008, he was transferred to Military Radar SBU as Project Head of Akash Missile System.
Nataraj Krishnappa, who is a PMP from PMI, USA, has successfully used project management concepts while executing the Akash Missile System project. Akash Missile System integrated in the country for the first time is a world-class Surface to Air Missile System that has been inducted into both the Indian Air Force and the Indian Army. He served as GM (HR) and as GM (Missile System) at BEL-Bengaluru before his elevation as Director (Other Units).
Nataraj Krishnappa is a certified Cost Accountant (ICWA) and has done his General Management programme from IIM-Bangalore. He is also a CII EXIM Bank Excellence Award Assessor and Lead Assessor in ISO 9000, ISO 14000 & AS9100 and has carried out several audits within the organization besides three international assessments.