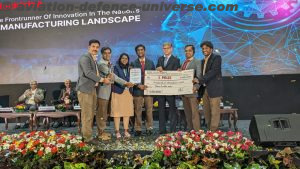 Bengaluru, November 21, 2022. The Export Manufacturing Strategic Business Unit of the Bangalore Complex of Navratna Defence PSU Bharat Electronics Limited bagged 2 awards at the National Productivity Summit organised by the Indian Machine Tool Manufacturers' Association (IMTMA) on November 18-19, 2022. BEL received the Champion of Champions Award (First Prize) and the Vox Populi (Voice of the Audience) Award for outstanding contribution to raising manufacturing productivity. The prize winning team consisted of Mr Premkumar D, Mr Nagendra Babu R, Mr Deepak G H, Ms Kalyani B, Mr Changappa N R and Mr Anjan K N of Export Manufacturing SBU, Bangalore Complex, BEL.
The award winning case study focussed on how defence major BEL entered into the field of manufacturing ICU ventilators for the first time and took up the challenge to manufacture 30,000 ICU ventilators in a record time of 90 days, against all unprecedented odds during the first wave of the COVID-19 pandemic.
The Government of India reposed confidence in BEL and its agile production system capability when it placed an order for 30,000 ICU ventilators. Manufacturing these ventilators was undertaken during the lockdown period. BEL received immense support from various government agencies to resolve the supply chain disruptions. The project was taken up in the first week of April 2020 and the production of 30,000 Ventilators was successfully completed on August 14, 2020, surmounting many challenges.
Some of the key challenges faced by BEL were: BEL entered into critical care medical equipment manufacturing with no prior experience / domain knowledge / infrastructure; Design to Delivery of 30,000 ventilators in a short span of 90 days; importing critical components with export restriction and overseas domestic demand, dynamic pricing and unpredictable lead times; sub-contracting of work packages from MSMEs due to the nation-wide lockdown; logistics issues due to cross border and inter-State traffic closure, etc; meeting various technical parameters during concurrent production phase since the CV 200 Ventilator was continuously being upgraded by the design teams (DRDO, Skanray and BEL) to cater to indigenization efforts of critical components; Clinical trials and approvals by DGHS as the CV200 was a new launch; realignment of manufacturing facility to meet production of medical grade ICU Ventilator in lieu of defence products.
The approach adopted by BEL which led to success include: Creation of War Room for making faster and dynamic decisions; ToT partners' identification and co-location of BEL and ToT teams; infrastructure creation / realignment; formation of cross-functional task force teams with specific tasks; obtaining statutory certifications; multiple / alternate sourcing for critical and long lead parts; timely indigenisation of imported parts; production at multiple business units; online training of medical professionals on use of the ventilator; pan India installation network.
Complete involvement of top management, resource optimization and total employee involvement led to the success of this mammoth project in a record time. This success has inspired BEL to diversify into the field of medical electronics.