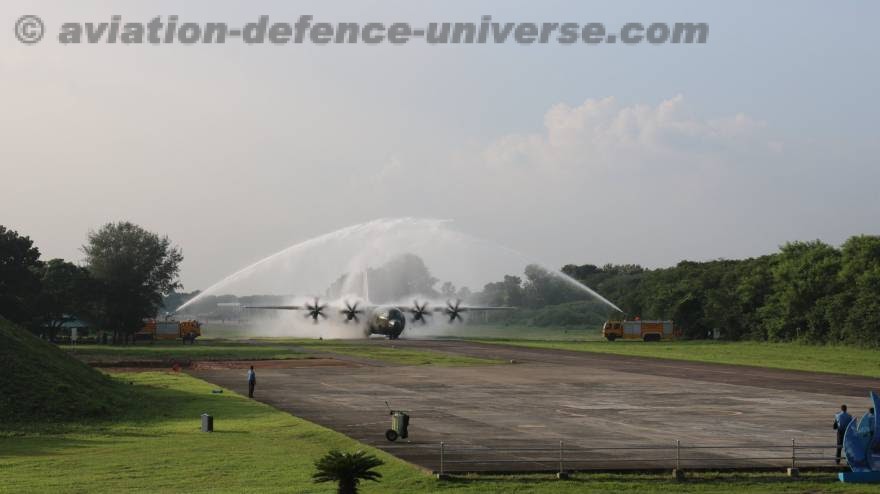 Dhaka. 27 August 2019. Bangladesh Air Force's first of five C-130J's on Sunday, August 25th. Air Chief Marshal Masihuzzaman Serniabat commented, "I was fortunate to be on hand with the team last month at Marshall in Cambridge for the Roll Out Ceremony of our first C-130J and I am even more delighted to be receiving it here in Dhaka today on what is a very proud moment for the Bangladesh Air Force".
The Bangladesh Air Force has an ambitious modernisation plan to be implemented in upcoming years under Forces Goal 2030. As per the goal, air force is to be a strong deterrent force to well protect the sky of Bangladesh. Plans are made to strengthen both air power and land based air defence capabilities. Since the formulation of the forces goal 2030, the BAF has developed in many folds.
Since 2010, BAF has taken the delivery of sixteen Chengdu F-7BGIfighter aircraft, sixteen Yakovlev Yak-130 advanced jet trainers, nine K-8W jet trainer aircraft, three Let L-410 Turbolet transport trainer aircraft[15] and twenty three PT-6 basic trainers. Process is going on for the procurement of eight multirole combat aircraft.
BAF has also taken the delivery of sixteen Mi-171Sh combat transport helicopters, two AgustaWestland AW139 maritime SAR helicopters and two AW 119KX training helicopters since 2010.
BAF earned the Surface to Air Missile capability by introducing FM-90 short range air defence missile in 2011. Till date, BAF Has taken the delivery of two regiments of FM-90 systems. Bangladesh air force will receive Italian origin long range Selex RAT-31DL air defence radar and a short range air defence radar soon. Process of procuring one battery of medium range surface to air missile system is going on.