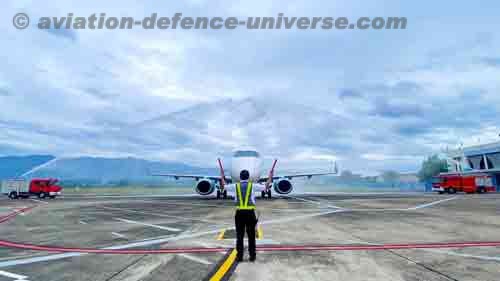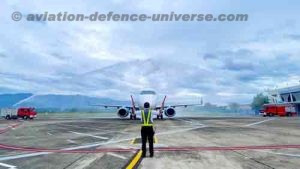 Ho Chi Min City. 14 October 2021. On October 14, flight QH1692 connecting Hanoi and Dien Bien touched down at Dien Bien Phu Airport at 10.10 am, marking Bamboo Airways' launch of nonstop Hanoi/Ho Chi Minh City – Dien Bien routes.
The nonstop flight only took nearly 1 hour compared to 9-12 hours by road, making the journey much more convenient for passengers.
For the first time in history, Dien Bien Phu Airport welcomes a commercial flight operated by Embraer 190 jet with a large payload capacity, high approach speed, and modern flight mode.
Bamboo Airways initially plans 3 round trips per week on this new route, strictly complying with the latest regulations to ensure a hassle-free operation and control the pandemic. The frequency will be gradually ramped up based on actual demands. Along with that, the airline plans to conduct nonstop flights Ho Chi Minh – Dien Bien in this December to fulfill the rising travel demands during Tet holiday season. This will be the first nonstop flight connecting Ho Chi Minh City and Dien Bien, writing a new history for Dien Bien in particular and the Vietnamese aviation industry in general.
Dang Tat Thang, CEO of Bamboo Airways said: "We expect this jet route to Dien Bien will meet the travel needs of locals and tourists; thus attracting investment, promoting inter-regional exchanges between Dien Bien and tourist, economic, cultural, and social centers of the country, and gradually transforming Dien Bien into a vital transport hub."
Bamboo Airways' first nonstop flights to this majestic Muong Troi land will be a stepping-stone to the upcoming expansive routes connecting Dien Bien and Hanoi, Ho Chi Minh City, Phu Quoc, etc., he emphasized.
Le Thanh Do, Chairman of the People's Committee of Dien Bien province expressed: "We heartily welcome Bamboo Airways with the opening of a nonstop route from Hanoi to Dien Bien operated by Embraer 190 jet. This will be a great motivation for the province to continue renovating and diversifying tourism products and services, thereby drawing tourist attraction. We expect this new route will stimulate investment and tourism of Dien Bien in particular and the Northwest region in general."
Ensure pandemic control and prevention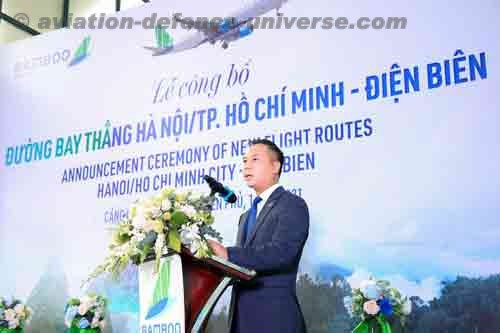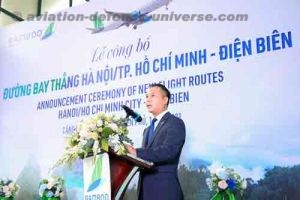 Bamboo Airways strictly adheres to Covid-19 prevention measures and procedures before, during, and after the flight. Passengers must present the negative test result within 72 hours issued by the licensed health unit before departure and fully complied with the 5K rules during the flight.
Dien Bien province also arranged workforce at Dien Bien Phu Airport to impose stringent Covid-19 prevention and control.
Passengers on the Dien Bien – Hanoi route who meet all criteria by the ministries of transport and health will monitor health at home or place of residence and follow COVID-19 prevention and control measures in line with the State and city's regulations.
Flight tickets have been opened for sale on Bamboo Airways' website, hotline, and all agents nationwide, with preferential prices from VND 299,000/way. Many attractive promotions were implemented on the occasion of the opening such as a 50% discount on basic airfare for veterans, young volunteers, and people with military contributions; discount fares up to 40% for small groups; and only VND 650,000/way for groups of 10-25 people.
Business Class Flight Experience
QH1692 is the first flight that offers Business Class service for passengers to Dien Bien, including many attractive privileges such as Business Lounge access, spacious private cabin, diverse cuisine, specialized attendant services, priority for check-in, boarding, etc.
The Embraer 190 sets the standard in its category with its advanced engineering, high degree of efficiency, spacious, ergonomic cabins that seat up to 100 passengers, and attractive operating economics. This aircraft operation to Dien Bien shows Bamboo Airways' relentless efforts in providing diverse and superb services on both major and niche routes.
Bamboo Airways also pioneers Embraer 190 on many niche routes, such as Con Dao, Rach Gia…, to optimize the capacity of small and medium airports, expand niche flight networks, and contribute to load reduction for major airports.
"We congratulate Bamboo Airways as they continue to launch domestic routes with the added comfort of a jet. Bamboo Airways is utilizing the best of the E190's short-field performance, economics, and fuel efficiency to their advantage and we are with them on this journey," said Raul Villaron, Vice President of Embraer Commercial Aviation in Asia Pacific.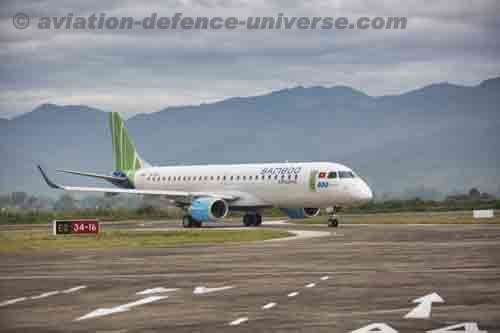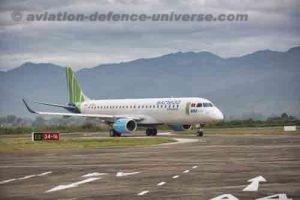 Within the framework of the event, Bamboo Airways held the Groundbreaking Ceremony of Business Lounge at Terminal 2, Arriving Hall, Dien Bien Phu Airport. This movement is synchronized with operation policy, infrastructure investment, and social responsibility of the airline in localities.
After putting into operation right in the fourth quarter, Business Lounge is promising to fulfill the 5-star service experience of passengers on their journey to/from Dien Bien.