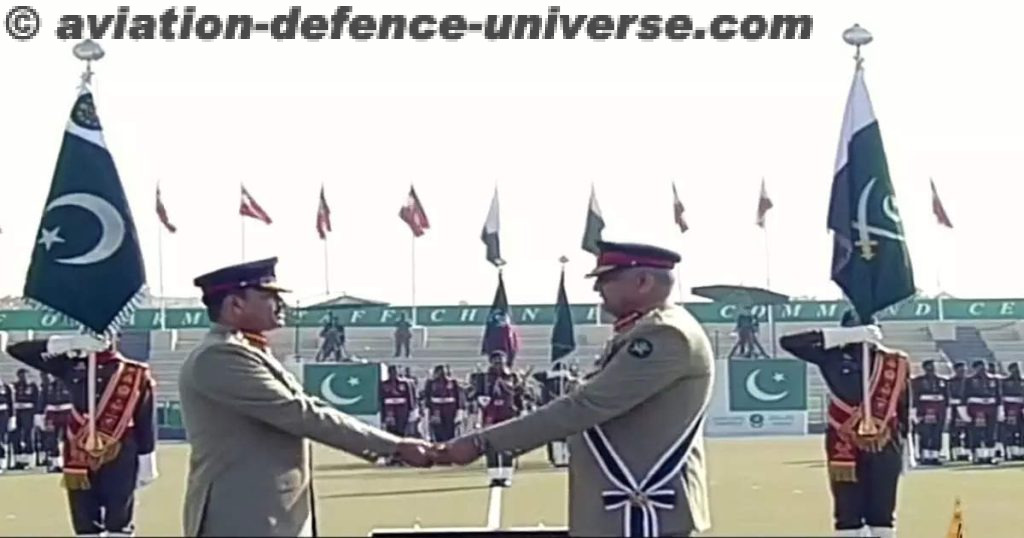 Pakistan's new Army chief inherits thorny crown
By Jai Kumar Verma
New Delhi 30 November 2022. Chief of Army Staff in Pakistan is the most powerful person in the country, as army directly or indirectly has ruled it since its creation in 1947.  Pakistan's next army chief Lt. Gen Asim Munir is taking over when the country is passing through a difficult phase. It is facing economic disaster and is in a complicated political situation. There are internal as well as external challenges.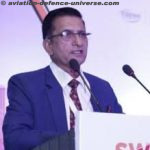 The new incumbent of the hot seat has not been much involved in internal politics so far and the outgoing chief has started a rhetoric that army should remain out from the internal politics of the country. Not to forget that Bajwa himself was deeply involved in internal politics and also formulated the foreign policy of the country. Pak watchers clearly analyse that Imran Khan became prime minister only because of the assistance rendered by the army and he was thrown out because of the formidable army. Now on one hand Munir has to keep Imran Khan out of power and on the other hand he had to answer that why civilian rulers were repeatedly ousted from power by the army.
The new chief would have to deal with budget and trade deficits as well as has to revive the civilian institutions. The inflation rate in October 2022 was 26.6 percent while in September it was 23.2 percent. The total debt and liabilities are Rs. 62,500 billion. According to reports more than 50 percent of country's population is either 'multidimensionally poor' or is 'vulnerable to multidimensionally poor'.  The investors' confidence is eroded and they feel that Pakistan is not heading towards a right direction. Sales of petrol, diesel, cement, furnace oil, cars have declined considerably.
Pakistan has to repay $22 billion on account of foreign debt and the country would lose $ 12 billion because of current account deficit. It means external financing needs $34 billion. World Bank report mentions that Pakistan would need $16 billion in recovery and reconstruction because of the devastation done by floods. This estimate does not include the pandemics, food, and water scarcity which the masses have to face after floods.  Pakistan is also facing risk of default which was 10 percent in April but increased to 75 percent in November.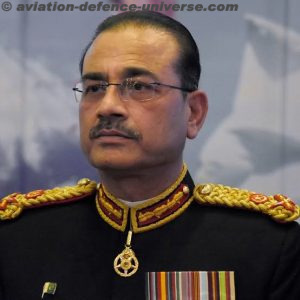 Prime Minister Shehbaz Sharif of Pakistan has selected Lieutenant General Asim Munir as the successor of present army Chief General Qamar Javed Bajwa. General Bajwa retired on 29 November after completing six years as Chief of Pakistan army. Lt. General Munir was serving as Quarter Master General before taking over as Chief of Army. On 23 November the army had sent the names of six senior most Lieutenant Generals from which the Prime Minister had to select one for the post of Chief of Army Staff. The list included names of Lt Gen Asim Munir, Lt Gen Sahir Shamshad, Lt Gen Azhar Abbas, Lt Gen Nauman Mehmood, Lt Gen Faiz Hamid, and Lt Gen Mohammad Amir. Choice for once fell on the senior most serving general-Asim Munir. The cabinet meeting held on 24 November cleared his name for the next Army Chief.
The defence minister Khawaja Asif stated that the name of Asif Munir was sent to President Arif Alvi for approval as he is the supreme commander of the armed forces. Alvi was the leader of Pakistan Tehreek-e-Insaf (PTI) party and he was made president when Imran Khan was the prime minister and head of PTI.
Munir remined head of two top intelligence agencies of Pakistan. He was Director General of Military Intelligence for 21 months starting from early 2017. He became Director General of Inter Services Intelligence (ISI) in October 2021 but was removed by General Bajwa on behest of the then Prime Minister Imran Khan. Munir was posted as Corps Commander at Gujranwala. In this way Munir served as chief of two most important intelligence agencies of Pakistan.
It may be recalled that Imran Khan did not take Munir's telling him about the corruption cases of the family of his wife Bushra Bibi. It was the reason that Khan has been against the appointment of Munir as Chief of Army Staff. On the other hand, Shahbaz Sharif consulted his elder brother Nawaz Sharif and announced that senior most general would be appointed as chief of army. Khan was pressurising government through long march to declare early elections as well as Khan also wanted that Sharif should consult opposition parties also in selecting the chief of army.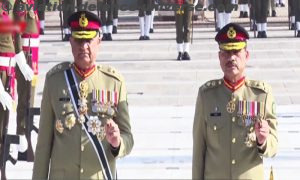 Munir is also close to Bajwa because as a brigadier he commanded Force Command Northern Areas (FCNA) which was under X Corps which was commanded by Bajwa. At present Bajwa also needs a supportive army chief as journalist Ahmed Noorani revealed on the website Fact Focus that Bajwa his family including extended family has amassed millions of dollars and possessed farm houses and other properties in Pakistan and foreign countries.
After Alvi received recommendation from administration for appointing Munir as chief of army staff he rushed to Lahore and consulted Imran Khan. After getting clearance from Khan, he signed the letter same day. Pakistan watchers claim that it was a critical time for Khan to decide whether he wants confrontation with army or he is willing to reconcile. Khan has chosen the path of reconciliation and permitted Alvi to sign the letter without delay. It was also a face-saver for Imran Khan.
Asim Munir was head of ISI and architect of Pulwama attack on Indian security forces in 2019, in which 40 valiant Central Reserve Police Force (CRPF) personnel were martyred. The attack was carried out by Pakistan based terrorist outfit Jaish-e-Mohammed (J-e-M).
The relations between both the countries became very tense and India conducted the second surgical strike and destroyed terrorist training camp run by J-e-M in Balakot. Indian Air Force planes entered Pakistan air space and dropped bombs and missiles in Balakot which is located in Khyber Pakhtunkhwa. This surgical strike is significant as it gave a terse message to nuclear armed Pakistan that if it would not stop infiltrating terrorists, Indian security forces would enter in their territory and would demolish the terrorist training places. This surgical strike has also made it clear that India is not afraid of their nuclear warheads.
Munir planned retaliatory attack on India after the surgical strike.  When Wing Commander Abhinandan Varthaman VrC was captured by Pakistan forces and had to be released because of global pressure, he was one of the important decision maker. Munir is an expert on Kashmir and has deep knowledge of the terrorist outfits active in the valley.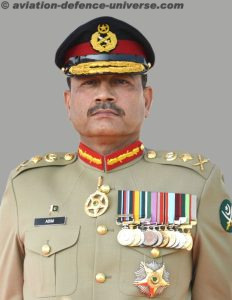 Pakistan Army survives on anti-India rhetoric and making false claims that there is danger from India. Pakistan Army's Chief cannot afford friendly relations with India. Hence there are remote chances of good neighbourly relations between both the countries. As Pakistan is out from the grey list of Financial Action Task Force (FATF), it might galvanise terrorist attacks on India. Indian security forces should enhance the vigilance so that ISI does not succeed in another big terrorist attack. Pakistan may plan terrorist attack on India to distract the public attention from day-to-day problems.
The new army chief has to face all these problems besides the internal law and order problem created by Imran Khan. PTI is only generating slogans and has no plans how these problems can be sorted out.
Besides these internal problems Pakistan is also facing external problems. Pakistan is inculcating close relationship with Turkey which wants to lead Muslim world. Hence its relations with Saudi Arabia and United Arab Emirates are not very cordial. Both these countries were rendering financial assistance to Pakistan. In nutshell Asim Munir is becoming chief of Pakistan army when the country is facing multiple problems, hence he and civilian government should work together so that the country comes out from this difficult phase.
General Qamar Bajwa has passed on a thorny crown on General Asim Munir's head.
(Jai Kumar Verma is a Delhi-based strategic analyst and Life member of United Services Institute of India and member of Manohar Parrikar Institute for Defence Studies and Analyses. The views in the article are solely the author's. He can be contacted at [email protected])