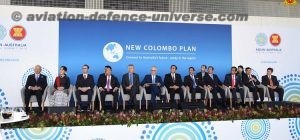 By Suresh Somu
Singapore. 24 March 2018.  Australia and the Association of Southeast Asian Nations (ASEAN) have agreed to establish a regional infrastructure pipeline as the bloc seeks to balance rising Chinese influence.
The project "will develop a pipeline of high-quality infrastructure projects, to attract private and public investment", according to a statement from Australian Foreign Minister Julie Bishop after a first-ever Australia-Asean meeting.
Australia, the United States, India and Japan have been seeking to establish a regional alternative to China's multibillion-dollar Belt and Road infrastructure scheme. A spokeswoman for Bishop said the agreement was purely an ASEAN initiative and "not to counter China".
Australia hosted the special ASEAN meeting, despite not being a member of the 10-nation bloc, looking to tighten political and trade ties in a region where Chinese presence is growing stronger.
A joint communiqué issued by Australia and ASEAN at the end of the meeting called for "self-restraint" in the South China Sea, where aggressive Chinese expansion has irked ASEAN members who also have territorial claims in the busy waterway.
SECURITY AND STABILITY
"This is a security and stability question in Southeast Asia which will affect all ASEAN countries if it goes wrong," Singapore Prime Minister Lee Hsien Loong told a news conference shortly after the communiqué was issued.
Chinese President Xi Jinping's signature Belt and Road plan is a vehicle for the world's second-largest economy to take a greater role on the international stage by funding and building transport and trade links in more than 60 countries.
Xi has promoted the initiative heavily, inviting world leaders to Beijing last May for an inaugural summit at which he pledged $124 billion in funding for the plan, and enshrining it into the ruling Communist Party's constitution in October.
Indeed, from way back in 2016, heightened tension has been on the cards in the South China Sea over rival territorial claims. Although Indonesia is not involved in the claims, it has out rightly objected China's inclusion of parts of the Natuna Islands.
That's within a "nine-dash line" that Beijing marks on maps to show its claim, which resulted in a fiery clash with the titan over fishing rights around Natuna Islands.
RISING ROLE
ASEAN's rising role in the territorial claims has attracted interests from other regional super powers. In January, this year, India Prime Minister Modi invited leaders of the ten ASEAN countries to attend India's Republic Day parade. And now for the first time, Australia has organised a meeting with ASEAN leaders.
ASEAN members have already secured almost half of the South China Sea where patrolling is carried out consistently. And China claims most of the South China Sea. A route which is believed to contain huge quantities of oil and natural gas where the dragon has placed its den by building artificial islands on reefs, some with ports and air strips.
Observers say no one wants to rock the proverbial boat especially since China has been Australia's largest trading partner. And Australia takes no sides in the disputes in the South China Sea and has declined to join naval exercises too.
Despite the no participation, it strongly supports the US-led freedom of navigation activities in the region. And also further sought to develop closer links with ASEAN countries through trade and anti-terrorism cooperation.
FIRM COMMITMENT
It was also reported that Australia has set up many segments for the summit including fishery cooperation and security. All this clearly endorsed Australia's firm commitment to ASEAN and the longer-term possibility of being a full regional member very soon.
Australian Prime Minister Malcolm Turnbull gave the thumbs-up to the inaugural ASEAN-Australia Special Summit. He said the summit comes at a "critical time in history" where the pace and scale of change is "utterly without precedent".
"The summit has given us an opportunity to confirm Australia's steadfast commitment to ASEAN, the centrality of ASEAN and Australia as an all-weather friend, now and into the future," said Mr Turnbull.
"Over the past 50 years, ASEAN has used its influence to support and maintain the rule of law, and this Special Summit has demonstrated that Australia is committed to backing ASEAN in this role," he added, saying that the regional group's leadership is critical in developing and maintaining a prosperous region.