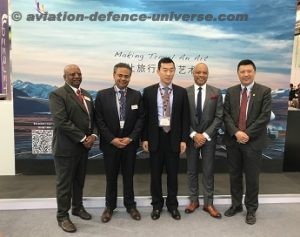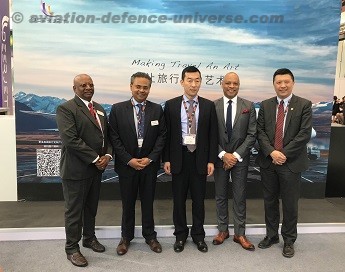 India, April 17, 2018 – Honeywell (NYSE: HON) has signed a three-year contract with Deer Jet, the largest business aviation operator in Asia Pacific, to enroll 12 aircraft from its Gulfstream fleet into the Honeywell Avionics Protection Plan and another nine aircraft into the Honeywell Mechanical Protection Plan. Existing protection plans on Deer Jet aircraft have already saved the company nearly
$1 million.
The Honeywell Avionics Protection Plan (HAPP) is a maintenance service program and protection plan that offers fast and cost-efficient avionics support to business and general aviation operators. Honeywell's program plays a significant role in operators avoiding unexpected maintenance costs and keeping fleets optimized and flight-ready. As one of the largest repair and replacement programs in business and general aviation, HAPP currently covers aircraft for more than 3,000 operators worldwide. Similar to warranty programs, HAPP provides comprehensive coverage for Honeywell aircraft systems. The coverage helps operators better forecast maintenance and repair costs and respond quickly when servicing is required.
"Deer Jet has been the leading business jet operator in China enrolled in HAPP and the Mechanical Protection Plan (MPP) since 2015. After our successful trial of enrolling our first three Gulfstream G550s into the HAPP program, we have extended the HAPP and MPP to more aircraft. These are cost-effective and reliable programs, which have helped us save nearly $1 million in fleet maintenance costs, and ensure we receive timely support whenever servicing is required," said Zhou Jinshan, vice president of maintenance, Deer Jet. "Moving forward, we are committed to introducing more business jet operators in the region to HAPP and are confident that Honeywell will continue to help operators optimize fleet availability, while further streamlining maintenance costs."
           "Over the next 10 years, reports have forecasted that Greater China will become the third-largest business aviation market in the world. To remain competitive, operators will need to look at reducing unplanned maintenance, which is one of the biggest pain points for business jet operators today as it affects flight operations, decreases revenue and increases repair costs," said Andy Gill, senior director, Business and General Aviation, Asia Pacific, Honeywell Aerospace. "With HAPP predictable, fixed annual fees, Deer Jet is now able to receive the support it needs to ensure fleets are reliably maintained and repair costs will not exceed its budget."
            Deer Jet, which is the largest user of HAPP products in mainland China, will become an authorized dealer to sell HAPP to other business jet operators across Asia Pacific. Those operators can choose to enroll in HAPP regardless of an aircraft's age, with pricing based on flight hours, aircraft type and equipment on board. Deer Jet will also promote Honeywell's MPP to business jet operators, which is the most widely recognized cabin protection in the industry, protecting environmental and cabin pressure control systems.
In addition, Deer Jet is a Honeywell-authorized avionics dealer and auxiliary power unit mechanical service center — allowing the company to maintain, install and upgrade Honeywell avionics for business aviation operators in Asia Pacific.