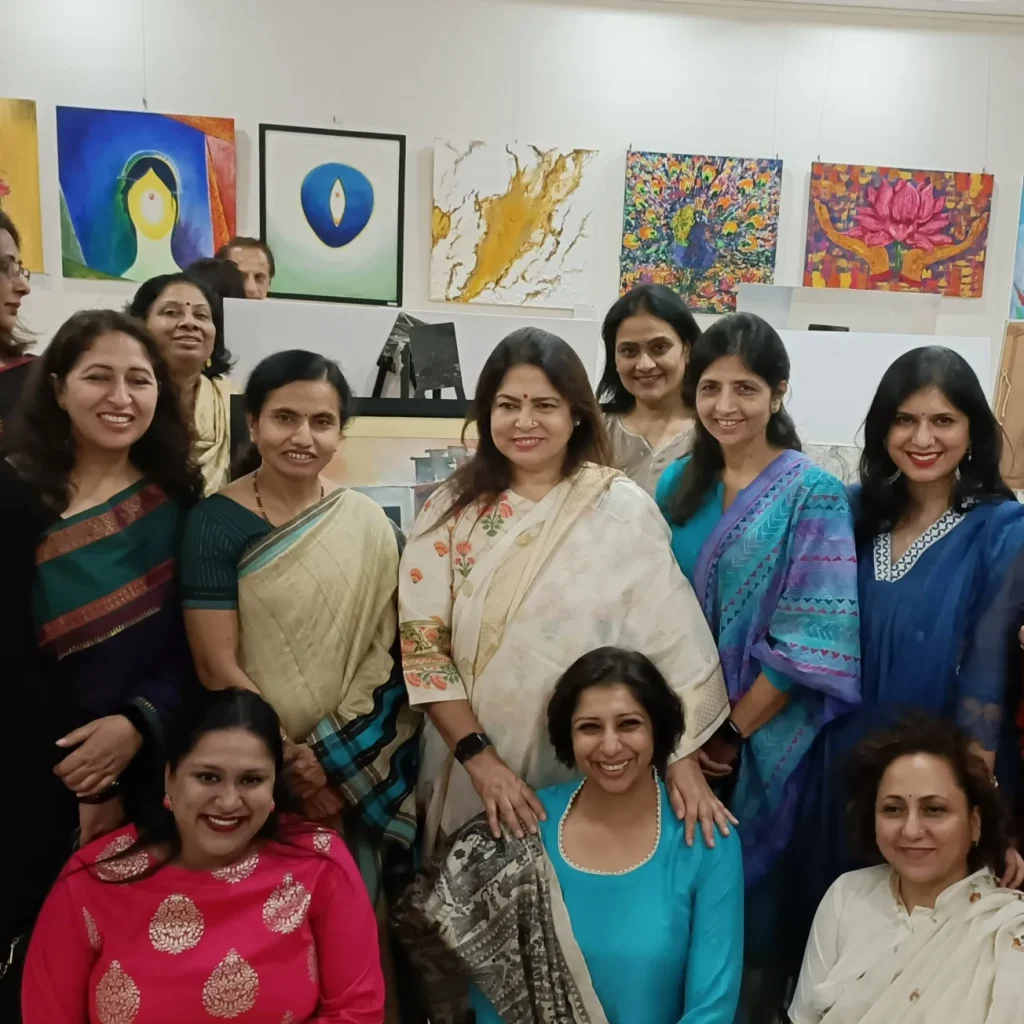 New Delhi. 24 November 2022. The journey which began in February 2020 from a platform given by an art lover and a visionary at the Army House, has marched ahead.. Five artists showcased their artworks to a large gathering which were widely appreciated and acknowledged . Enough to encourage these army wives to pursue their passion further. With this followed series of opportunities . Just before when the pandemic had spreading its claws on the humanity, they showcased their works at DLF Promenade which received a huge response.This time they were 10 in number.
Come 2021, there was an online enrichment prog conducted by AWWA for all of them to equip about various elements involved in this field of art. They also got the opportunity to interact with eminent artists and witness live demos of their exquisite works. Now the number had increase to 17. At the end of this programme and noticing the increase in the number they realised that there are many like them in the olive green fraternity , who needed a platform to take a flight of their dreams . This lead to the inception of the group The Olive Expressions, in Sept 21.
"We grew on number by end of the year to 45 . Then came out first exhibition in the outside world at the visual art gallery , India habitat centre which was under the banner of AAF ( Awadh Art Festival )
Famous actress Deepti Naval was pleasantly surprised to see this creative side of our tribe. The world has started opening up after third wave of pandemic , further and so was our reach . By early March we had hit the 400 mark on our social media handles. Awwa took a big leap for us n provide a pan India platform on Women's day. All the artists army wives across the country participated in the art exhibition in various cities . This received a thums up from the art lovers from all walks of life," said Mili Chaudhary, the pioneer of this group.
Opportunities kept coming their way , courtesy Army Wives Welfare Association (AWWA) .  Recently , AWWA in collaboration with Awadh Art Festival (AAF) conducted an art camp at the National Crafts Museum and Hastkala Academy . Chief Guest Ms Meenakshi Lekhi, the Minister of State for External Affairs and Culture  appreciated their efforts and artworks, as the Chief Guest. Today the group has 781 members.
Some of the ladies are taking their first solo flight by exhibiting their artworks at AIFCAS Gallery in Delhi from 25th November to 1st December. 20 artists from the group are coming together for this art extravaganza from various parts of India, where their husbands are posted.